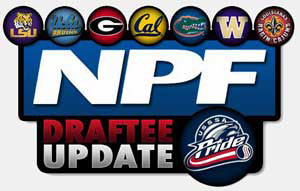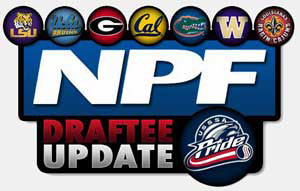 Via uclabruins.com:
 Vs. Cal State Northridge, April 18
Cal State Northridge 3, UCLA 10
Harrison, 4/18: (AB-4;R-0;H-1;RBI-1;BB-0;SO-0;PO-0;A-1;LOB-1)
"…The Bruins tied things up in their first at-bat, producing three straight doubles by Schroeder, LaRosa and senior Andrea Harrison to make it 2-all.
"… Harrison tapped one back to the circle, which forced Snow at the plate for the second out, but Bates followed with a double to center to bring in Schroeder and LaRosa to make it 10-3. However, Northridge avoided the mercy rule, as Harrison was thrown out at the plate for the final out of the inning."
Vs. Utah, April 20,21,and 22
Game 1, 4/20: UCLA 5, Utah 0
Game 2, 4/21: UCLA 11, Utah 8
Game 3, 4/22: UCLA 9, Utah 1
Harrison, 4/20-22: (AB-10;R-4;H-5;RBI-8;BB-1;SO-0;PO-3;A-0;LOB-0)
Game 1:
"UCLA scored three more times in the sixth. Again with one out, senior Andrea Harrison singled up the middle and moved to second on a passed ball. After a walk to junior B.B. Bates, and with freshman Sam Duran coming in to run for Harrison, Yudin smashed her seventh homer of the season to left-center to increase the Bruins' lead to 5-0."
Game 2:
"Senior Andrea Harrison hit a pair of homers and drove in four…
"…Harrison moved into fourth place on UCLA's all-time list with her 51st and 52nd career home runs.
"…LaRosa followed with a double to right-center to plate Duran to make it 3-0 and a home run by Harrison to center, her 11th of the year, increased the UCLA lead to 6-0.
"…The Bruins got one of the runs back in the fourth on a leadoff homer by Harrison to right-center, her 12th of the season and second of the game, to make it 11-2."
Game 3:
"Seniors Andrea Harrison and Dani Yudin and freshman Stephany LaRosa each had two hits, while Harrison, LaRosa and juniorB.B. Bates all homered, as the 15th-ranked Bruins defeated Utah 9-1 in six innings on Sunday at Easton Stadium.
"…Harrison drove in four to give her three homers and eight RBI in the series, while LaRosa had a pair of RBI.
"… Harrison smashed her 13th homer of the season to left to increase UCLA's lead to 6-1."
About USSSA Florida Pride:
The USSSA Florida Pride is a professional franchise in the National Pro Fastpitch League that is owned and operated by USSSA. The amateur organization of USSSA has multi-sport coverage and encompasses teams and players from the United States and abroad.
About NPF:
National Pro Fastpitch is headquartered in Nashville, TN. The league, created to give elite female fastpitch players the opportunity to pursue a professional career in their chosen sport, has operated since 1997 under the names of Women's Pro Fastpitch (WPF) and Women's Pro Softball League (WPSL). NPF is the Official Development Partner of Major League Baseball in the category of women's fastpitch softball since 2002.
About USSSA:
The United States Specialty Sports Association (USSSA), headquartered in Osceola County, Florida, USSSA is the World's Largest Multi-sport Athletic Organization. Founded in 1968, USSSA has grown to over 3.7 million participants, competing in 13 nationally sanctioned sports including Baseball, Fastpitch, Slow Pitch, Karate, Basketball, Soccer and more! For more information on USSSA and to register your team visit USSSA.com. Also be sure to visit USSSAToday.com for the latest USSSA News!