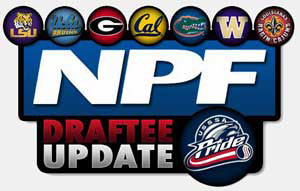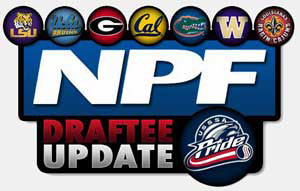 Via ragincajuns.com:

Cajuns Sweep LSWA Weekly Honors (4/18)
"UL's Christi Orgeron and Ashley Brignac secured this week's edition of the Louisiana Sports Writers Association (LSWA) Softball Hitter and Pitcher of the Week awards Wednesday as voted upon by the state's sports information directors.
"A senior outfielder for the Cajuns, Orgeron added three long balls and 11 RBIs as she collected hits in five of Louisiana's six games last week. That brings her impressive season totals to 15 home runs to go along with 73 RBIs, tops in the NCAA. Her fourth grand slam of the season came in the series opener at Middle Tennessee State and tied her with former Ragin' Cajuns All-American Gabriele Bridges for the second-most in a season in NCAA history.
"It's the sixth weekly award for Orgeron and the fifth for Brignac from the LSWA."
Vs. Florida Atlantic University, April 21 and 22
Game 1, 4/21: Louisiana 21, FAU 0
Game 2, 4/21: Louisiana 10, FAU 2
Game 3, 4/22: Louisiana 9, FAU 1
Mack, 4/20-22: (AB-7;R-6;H-4;RBI-10;BB-5;SO-0;PO-1;A-0;LOB-0)
Game 1:
"Pitcher Jordan Wallace broke an NCAA record for a freshman with her 21st consecutive win to begin her career, and Christi Orgeron tied the single season grand slam record with her sixth blast of the season as the seventh ranked Cajuns swept the twin bill against FAU, 21-0  and, 10-2 on Saturday afternoon at Lamson Park.
"Orgeron launched her NCAA tying grand slam in a Cajuns eight-run third inning, giving her nine slams in her career. The New Orleans, La. native finished the doubleheader 3-for-5, with two homeruns, four runs scored and eight RBI. On the season, the senior has 17 long balls and leads the nation with 81 RBI. Orgeron recorded the third highest RBI total in a season in NCAA history, with 101, in 2011 and sits sixth all-time with 275 – 18 behind fifth place.
"Orgeron is one of 10 finalists for the Lowe's Senior CLASS Award and a top 25 finalist for USA Softball Collegiate Player of the Year."
Game 2:
"UL scored four more runs in the bottom of the frame as Myers drove in a pair with a double to the left center gap and Orgeron plated her with her second blast of the day for a 9-2 advantage."
Game 3:
"Christi Orgeron gave the Cajuns (41-2, 16-2) an early 2-0 lead as she tagged a 2-2 offering from FAU hurler, Paige Pender, for a two-run blast to left center, giving her a team-leading 18 homeruns on the year. The homerun increased her career total to 66, tying her with former UL slugger Gabriele Bridges for third on the school's all-time list."
"UL walked off with a mercy rule win in the bottom of the sixth as Haack drove in Myers, with a single to left field, and a fly ball off the bat of Draheim was dropped by the left fielder Alison Milam, which scored Orgeron for the 9-1 victory."
Orgeron and Wallace Sweep SBC Player of the Week Awards (4/23)
"After breaking and tying a pair of NCAA records, Louisiana's Christi Orgeron and Jordan Wallace were named the Sun Belt Conference Softball Player and Pitcher of the Week, as announced by the league office on Monday.
"…The No. 7/8 Cajuns (41-2, 16-2) swept the conference weekly honors for the second time this season with Orgeron and Wallace combining for seven SBC Player/Pitcher of the Week awards this season and totaling 11 weekly SBC accolades overall for UL.
"…The fifth year senior, Orgeron, was also recognized as the College Sports Madness Sun Belt Softball Player of the week.
"…Orgeron was 4-for-7 on the week with three home runs, ten RBI and six runs scored. The senior hit her sixth grand slam of the season, and the ninth of her career, in game one of the doubleheader against Florida Atlantic, both equaling NCAA records for slams. Orgeron added her team-leading 18th blast of the season in the series finale on Sunday, giving her 66 in her career and tying former UL slugger Gabriele Bridges for third all-time in school history. The New Orleans native leads the nation with 83 runs driven in and sits sixth on the NCAA RBI charts with 277 in her career – just 16 RBI shy of fifth place."
About USSSA Florida Pride:
The USSSA Florida Pride is a professional franchise in the National Pro Fastpitch League that is owned and operated by USSSA. The amateur organization of USSSA has multi-sport coverage and encompasses teams and players from the United States and abroad.
About NPF:
National Pro Fastpitch is headquartered in Nashville, TN. The league, created to give elite female fastpitch players the opportunity to pursue a professional career in their chosen sport, has operated since 1997 under the names of Women's Pro Fastpitch (WPF) and Women's Pro Softball League (WPSL). NPF is the Official Development Partner of Major League Baseball in the category of women's fastpitch softball since 2002.
About USSSA:
The United States Specialty Sports Association (USSSA), headquartered in Osceola County, Florida, USSSA is the World's Largest Multi-sport Athletic Organization. Founded in 1968, USSSA has grown to over 3.7 million participants, competing in 13 nationally sanctioned sports including Baseball, Fastpitch, Slow Pitch, Karate, Basketball, Soccer and more! For more information on USSSA and to register your team visit USSSA.com. Also be sure to visit USSSAToday.com for the latest USSSA News!