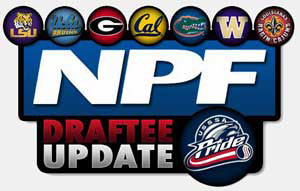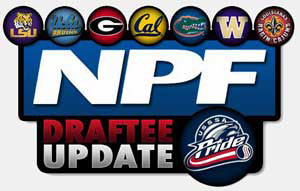 Via ragincajuns.com:
Orgeron, Myers Tabbed All-Americans by College Sports Madness (5/16)
"LAFAYETTE, La. – Senior outfielder Christi Orgeron and junior shortstop Nerissa Myers were recognized as first and third team All-Americans, respectively, as announced by College Sports Madness on Wednesday.
"Orgeron leads the country with 91 RBI this season and was named the Sun Belt Conference Player of the Year after pacing the league in homeruns (21), slugging percentage (.848), total bases (140) and walks (41). The fifth-year senior has six grand slams this season and nine in her career, which are both tied for NCAA records. The New Orleans, La. native is a finalist for the Lowe's Senior CLASS Award and USA Softball Collegiate Player of the Year."
USA National Team Invites Orgeron Back For Tryouts (5/17)
"LAFAYETTE, La. — Senior outfielder Christi Orgeron was invited to try out for the 2012 USA Softball Women's National Team for the second consecutive year, as announced by the Amateur Softball Association (ASA) of America on Thursday.
"The New Orleans native was one of just 21 athletes in the nation to receive an invitation to try out for the team. Orgeron was a member of the USA National Team in 2011, where they won gold medals at the World Cup of Softball and the Pan American Games."
Regionals, vs. Mississippi Valley State, Stanford, and Baylor, May 18-20
Game 1 (5/18): Louisiana 8, Mississippi Valley State 0 (W)
Game 2 (5/19): Louisiana 9, Stanford 3 (W)
Game 3 (5/20): Louisiana 6, Stanford 2 (W)
Orgeron, 5/18-20: AB-10;R-1;H-2;RBI-3;BB-1;SO-1;PO-0;A-0;LOB-3
Game 3:
"Christi Orgeron blasted her team-leading 22nd homerun and drove in three runs, giving her a NCAA-leading 94 on the year. The New Orleans, La. native sits sixth all-time in NCAA history with 288 RBI, just five short of fifth on the list.
"… Christi Orgeron laced a RBI single down the left field line to plate Smith.
"Orgeron gave the Ragin' Cajuns a lift in the bottom half by launching a solo shot to dead center for a 3-0 advantage.
"The Ragin' Cajuns added another run in the bottom of the sixth on an Orgeron sacrifice fly for a 6-2 lead.
About USSSA Florida Pride:
The USSSA Florida Pride is a professional franchise in the National Pro Fastpitch League that is owned and operated by USSSA. The amateur organization of USSSA has multi-sport coverage and encompasses teams and players from the United States and abroad.
About NPF:
National Pro Fastpitch is headquartered in Nashville, TN. The league, created to give elite female fastpitch players the opportunity to pursue a professional career in their chosen sport, has operated since 1997 under the names of Women's Pro Fastpitch (WPF) and Women's Pro Softball League (WPSL). NPF is the Official Development Partner of Major League Baseball in the category of women's fastpitch softball since 2002.
About USSSA:
The United States Specialty Sports Association (USSSA), headquartered in Osceola County, Florida, USSSA is the World's Largest Multi-sport Athletic Organization. Founded in 1968, USSSA has grown to over 3.7 million participants, competing in 13 nationally sanctioned sports including Baseball, Fastpitch, Slow Pitch, Karate, Basketball, Soccer and more! For more information on USSSA and to register your team visit USSSA.com. Also be sure to visit USSSAToday.com for the latest USSSA News!