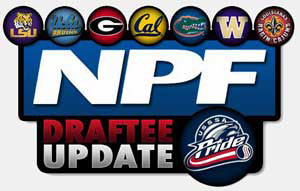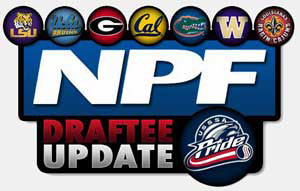 Via UCLABruins.com:
Six Bruins Named to NFCA All-West Region Teams (5/17):
"STARKVILLE, Miss. – Six Bruins were named to the All-West Region Team, as announced by the National Fastpitch Coaches Association (NFCA) on Thursday. Seniors Samantha Camuso, Andrea Harrison and Katie Schroeder, and freshman Stephany LaRosa were named to the First Team, while junior B.B. Bates and freshman Ally Carda were named to the Second Team.
"For Harrison, it is her third All-Region honor after being named in 2010 (no first- or second-team designations in `09 and `10) and First Team in 2011."
Regionals, vs. Hofstra, Florida State, and San Diego State, May 18 and 19
Game 1 (5/18): UCLA 2, Hoftsra 7 (L)
Game 2 (5/19): UCLA 1, Florida State 2 (L)
Harrison, 5/18-19: AB-7;R-1;H-2;RBI-1;BB-0;SO-3;PO-0;A-0;LOB-0
Game 1:
 "Senior Andrea Harrison and freshman Stephany LaRosa each homered, while sophomore Jessica Hall struck out nine, but the 12th-seeded Bruins dropped a 7-2 decision to Hofstra on Friday in their first game of the NCAA Los Angeles Regional at Easton Stadium."
Game 2:
"UCLA got a leadoff double by senior Andrea Harrison in the fourth, but could not score."
About USSSA Florida Pride:
The USSSA Florida Pride is a professional franchise in the National Pro Fastpitch League that is owned and operated by USSSA. The amateur organization of USSSA has multi-sport coverage and encompasses teams and players from the United States and abroad.
About NPF:
National Pro Fastpitch is headquartered in Nashville, TN. The league, created to give elite female fastpitch players the opportunity to pursue a professional career in their chosen sport, has operated since 1997 under the names of Women's Pro Fastpitch (WPF) and Women's Pro Softball League (WPSL). NPF is the Official Development Partner of Major League Baseball in the category of women's fastpitch softball since 2002.
About USSSA:
The United States Specialty Sports Association (USSSA), headquartered in Osceola County, Florida, USSSA is the World's Largest Multi-sport Athletic Organization. Founded in 1968, USSSA has grown to over 3.7 million participants, competing in 13 nationally sanctioned sports including Baseball, Fastpitch, Slow Pitch, Karate, Basketball, Soccer and more! For more information on USSSA and to register your team visit USSSA.com. Also be sure to visit USSSAToday.com for the latest USSSA News!