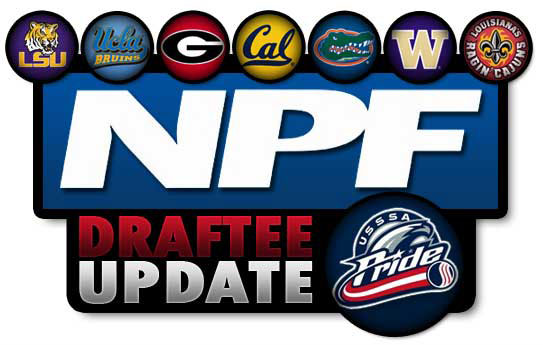 KRISTYN SANDBERG- 3rd pick for the USSSA Florida Pride, 5th pick overall University of Georgia Record as of 3/20: 23-5
Via NCAA as of 3/18: (G-28;AB-58;R-15;H-23;AVG-.397;2B-3;3B–;HR-7;TB–;SLG-.810;RBI-24;SB–;SBA–;BB-24;SO-6)
Via GEORGIADOGS.COM 3/20/2012:
"ATHENS, Ga.–After moving its season mark to 23-5, the University of Georgia softball team ranked No. 11 in the USA Today/National Fastpitch Coaches Association (NFCA) and No. 12 in the ESPN.com/USA Softball polls released Tuesday. … Senior Kristyn Sandberg led the team this week with a .444 batting average off of four hits while notching two RBI. Sandberg's 24 RBI this season are still behind freshman Paige Wilson's 26, who added two RBI this weekend with her two-out two-run double to seal the series win against Auburn in game three." "Quick Notes: … Sandberg is Clutch: Kristyn Sandberg has provided the Bulldogs with some clutch hitting throughout the season. The senior, who leads the team with a .397 batting average, is hitting .452 with runners on base. She is hitting at a .409 clip with runners in scoring position, and .667 with the bases loaded. More impressive still, is that Sandberg is hitting an astounding .750 with a runner at third and two outs. Overall with two away, Sandberg is hitting .500."
About USSSA Florida Pride:
The USSSA Florida Pride is a professional franchise in the National Pro Fastpitch League that is owned and operated by USSSA. The amateur organization of USSSA has multi-sport coverage and encompasses teams and players from the United States and abroad.
About NPF:
National Pro Fastpitch is headquartered in Nashville, TN. The league, created to give elite female fastpitch players the opportunity to pursue a professional career in their chosen sport, has operated since 1997 under the names of Women's Pro Fastpitch (WPF) and Women's Pro Softball League (WPSL). NPF is the Official Development Partner of Major League Baseball in the category of women's fastpitch softball since 2002.
About USSSA:
The United States Specialty Sports Association (USSSA), headquartered in Osceola County, Florida, USSSA is the World's Largest Multi-sport Athletic Organization. Founded in 1968, USSSA has grown to over 3.7 million participants, competing in 13 nationally sanctioned sports including Baseball, Fastpitch, Slow Pitch, Karate, Basketball, Soccer and more! For more information on USSSA and to register your team visit USSSA.com. Also be sure to visit USSSAToday.com for the latest USSSA News!