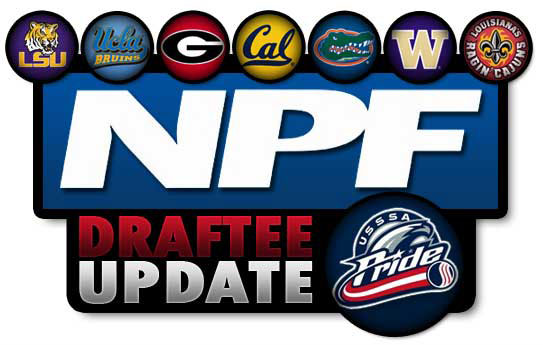 BRITTANY MACK- #1 Pick for the USSSA Florida Pride and Overall NPF #1 Draft Pick Louisiana State University Record as of 3/20: 20-8 (4-1 SEC)
Via NCAA as of 3/18: (APP-14;GS-8;CG–;W-8;L-4;SV-1;ShO-1;IP:70.3;H-73;R-33;ER-25;BB-21;SO-85;ERA-2.49)
Via Matt Dunaway, Associate SID, 3/20/2012 on lsusports.net:
"BATON ROUGE – The LSU softball team used a solid Brittany Mack pitching performance, alert baserunning from Alex Boulett and a timely two-out Tammy Wray RBI-single to notch its 20th victory of the season, a 2-1 triumph, over Georgia Tech Tuesday at Tiger Park.
LSU (20-8) won its fourth straight game and for the 17th time in its last 21 outings dating back to Feb. 19, while Georgia Tech (19-14) had its three-game winning streak halted.
In a battle of All-Americans, Mack outdueled Hope Rush on the pitcher's mound. Mack won her sixth straight decision and improved to 9-4 on the season. The senior right-hander was touched up for an unearned run on five hits. She racked up nine strikeouts against five walks and stranded 10 Georgia Tech baserunners, six in scoring position.
"The bottom line is that Brittany Mack was phenomenal tonight," head coach Beth Torina said. "She not only kept us in it with her pitching, but tonight she played defense. I thought she was really tough to hit for the entire game. I thought there was never a question with her. She was really solid and one of her best performances of the year."
About USSSA Florida Pride:
The USSSA Florida Pride is a professional franchise in the National Pro Fastpitch League that is owned and operated by USSSA. The amateur organization of USSSA has multi-sport coverage and encompasses teams and players from the United States and abroad.
About NPF:
National Pro Fastpitch is headquartered in Nashville, TN. The league, created to give elite female fastpitch players the opportunity to pursue a professional career in their chosen sport, has operated since 1997 under the names of Women's Pro Fastpitch (WPF) and Women's Pro Softball League (WPSL). NPF is the Official Development Partner of Major League Baseball in the category of women's fastpitch softball since 2002.
About USSSA:
The United States Specialty Sports Association (USSSA), headquartered in Osceola County, Florida, USSSA is the World's Largest Multi-sport Athletic Organization. Founded in 1968, USSSA has grown to over 3.7 million participants, competing in 13 nationally sanctioned sports including Baseball, Fastpitch, Slow Pitch, Karate, Basketball, Soccer and more! For more information on USSSA and to register your team visit USSSA.com. Also be sure to visit USSSAToday.com for the latest USSSA News!