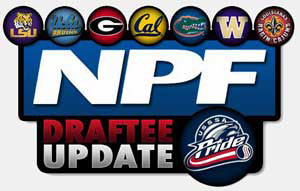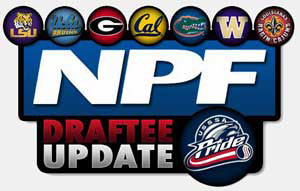 Via Matt Dunaway, Associate SID, lsusports.net:
Vs. Kentucky, May 4, 5,and 6:

Game 1, 5/4: LSU 3, Kentucky 4
Game 2, 5/5: LSU 1, Kentucky 2
Game 3, 5/6: LSU 0, Kentucky 1
Mack, 5/4-6:
Batting: AB-2;R-0;H-0;RBI-0;BB-0;SO-1;PO-0;A-0;LOB-2
Pitching: L,14-10;IP-6.0;H-4;R-2;ER-2;BB-3;SO-9;WP-0;BK-0;HBP-0;IBB-0;AB-21;BF-24;FO-5;GO-3;NP-98
Game 2:
"With the loss, Brittany Mack fell to 14-10 on the season. The senior right-hander notched nine strikeouts versus three walks. She held UK to a pair of runs on a quartet of hits."
About USSSA Florida Pride:
The USSSA Florida Pride is a professional franchise in the National Pro Fastpitch League that is owned and operated by USSSA. The amateur organization of USSSA has multi-sport coverage and encompasses teams and players from the United States and abroad.
About NPF:
National Pro Fastpitch is headquartered in Nashville, TN. The league, created to give elite female fastpitch players the opportunity to pursue a professional career in their chosen sport, has operated since 1997 under the names of Women's Pro Fastpitch (WPF) and Women's Pro Softball League (WPSL). NPF is the Official Development Partner of Major League Baseball in the category of women's fastpitch softball since 2002.
About USSSA:
The United States Specialty Sports Association (USSSA), headquartered in Osceola County, Florida, USSSA is the World's Largest Multi-sport Athletic Organization. Founded in 1968, USSSA has grown to over 3.7 million participants, competing in 13 nationally sanctioned sports including Baseball, Fastpitch, Slow Pitch, Karate, Basketball, Soccer and more! For more information on USSSA and to register your team visit USSSA.com. Also be sure to visit USSSAToday.com for the latest USSSA News!