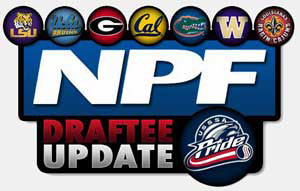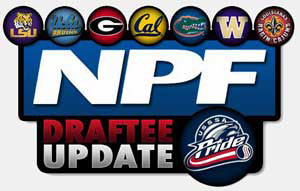 Via Matt Dunaway, Associate SID, lsusports.net:
Vs. University of Florida, April 24 (double header):
LSU 1, Florida 2
LSU 1, Florida 0 
Mack: IP-7.0;H-4;R-0;ER-0;BB-2;SO-8;AB-26;BF-29;NP-121
Game 2:
"Brittany Mack fired a four-hit shutout as the No. 23 LSU softball team grinded out a 1-0 victory to earn a split of a SEC doubleheader versus No. 2 Florida Tuesday at Katie Seashole Pressly Stadium."
"…Mack notched eight strikeouts versus two walks to improve to 14-8 on the season. She escaped a bases loaded jam with one out during the sixth inning. The senior right-hander dug deep and forced Bailey Castro along with Ensley Gammel to pop out and ground out in succession.
"…Mack regrouped to record the final out of the game in-style. She fanned Sami Fagan to secure the 2-1 triumph.
'…"My goal was to try and establish strike one because I saw it worked so well for Fico in the first game," Mack said. "However, I wasn't able to do that consistently especially early in the game. I had to battle back more times than I wanted to. At the end of the day, it's a great feeling to pick up a win against a very talented Florida team."'
Vs. Georgia, April 27, 28,and 29:

Game 1, 4/27: LSU 0, Georgia 1
Game 2, 4/28: LSU 1, Georgia 6
Game 3, 4/29: LSU 1, Georgia 0
Mack, 4/27-29:
Batting: AB-2;R-0;H-1;RBI-1;BB-0;SO-0;PO-0;A-0;LOB-0
Pitching: L,14-9;IP-7.0;H-8;R-6;ER-4;BB-0;SO-7;WP-1;BK-0;HBP-4;IBB-0;AB-29;BF-33;FO-6;GO-6;NP-131
Game 2:
"Brittany Mack was dealt the loss and yielded six runs, four earned, on eight hits. She garnered seven strikeouts and fell to 14-9 for the season.
'"Georgia has such a tough offense," head coach Beth Torina said. "They really find a way to make things happen. I thought today was just a case that they hit some balls in the right spot where we couldn't defend them. I didn't think anything was just crushed off of Brittany Mack. I didn't think there were any mistake pitches she threw. They just put balls in the right spot, and that's what a good offense will do."
"…A fielding error by Mack followed to place runners on the corners."
Game 3:
"Brittany Mack provided the Senior Day heroics, but not in the way that the decorated All-American has been accustomed to during her LSU career – she ripped a two-out, RBI double for her first career hit and first career RBI as the No. 23 LSU softball team claimed a 1-0 victory over No. 12 Georgia during Sunday's regular season home finale at Tiger Park."
About USSSA Florida Pride:
The USSSA Florida Pride is a professional franchise in the National Pro Fastpitch League that is owned and operated by USSSA. The amateur organization of USSSA has multi-sport coverage and encompasses teams and players from the United States and abroad.
About NPF:
National Pro Fastpitch is headquartered in Nashville, TN. The league, created to give elite female fastpitch players the opportunity to pursue a professional career in their chosen sport, has operated since 1997 under the names of Women's Pro Fastpitch (WPF) and Women's Pro Softball League (WPSL). NPF is the Official Development Partner of Major League Baseball in the category of women's fastpitch softball since 2002.
About USSSA:
The United States Specialty Sports Association (USSSA), headquartered in Osceola County, Florida, USSSA is the World's Largest Multi-sport Athletic Organization. Founded in 1968, USSSA has grown to over 3.7 million participants, competing in 13 nationally sanctioned sports including Baseball, Fastpitch, Slow Pitch, Karate, Basketball, Soccer and more! For more information on USSSA and to register your team visit USSSA.com. Also be sure to visit USSSAToday.com for the latest USSSA News!