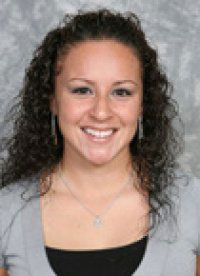 The USSSA Pride is proud to announce that  Jamee Juarez will be playing in a Pride jersey in the 2012 NPF Season.
"Jamee is an extremely versatile player who is the perfect fit for the Pride team," says Don DeDonatis, National Executive Director and CEO for USSSA.  "She's a natural-born competitor, and her NPF experience is exceeded only by her winning attitude and her work ethic, both on and off of the field."
Juarez joined the NPF in 2007, signing with the Akron Racers.  Juarez played for the Racers for 4 seasons before joining the Chicago Bandits as a utility player and a pitcher in 2011.
Juarez captured her first NPF title last season when the Chicago Bandits beat the Pride in the 2011 Championship Series, where Juarez had a .250 average in 4 at-bats.
Juarez graduated from Ohio State University in 2007 where she garnered numerous accolades and broke records consistently, including pitching for the most strikeouts and shutouts in the history of the program.  In her senior year, Juarez helped deliver Big Ten regular season and tournament championships to the Buckeyes and was named the 2007 tournament's MVP.  Juarez earned All-Big Ten honors for all four years and was named her school's Pitcher of the Year in her senior, junior, and sophomore seasons.
In November 2011, Juarez was brought in as an assistant coach for the softball program at Stony Brook University in Stony Brook, New York.
Juarez is a Native of La Puente, California where she attended Glen A. Wilson High School.  In her junior and senior years of high school, she was recognized as her school's MVP and given All-State Honors.
By Caitlin Schwartz
About USSSA Florida Pride:
The USSSA Florida Pride is a professional franchise in the National Pro Fastpitch League that is owned and operated by USSSA. The amateur organization of USSSA has multi-sport coverage and encompasses teams and players from the United States and abroad.
About NPF:
National Pro Fastpitch is headquartered in Nashville, TN. The league, created to give elite female fastpitch players the opportunity to pursue a professional career in their chosen sport, has operated since 1997 under the names of Women's Pro Fastpitch (WPF) and Women's Pro Softball League (WPSL). NPF is the Official Development Partner of Major League Baseball in the category of women's fastpitch softball since 2002.
About USSSA:
The United States Specialty Sports Association (USSSA), headquartered in Osceola County, Florida, USSSA is the World's Largest Multi-sport Athletic Organization. Founded in 1968, USSSA has grown to over 3.7 million participants, competing in 13 nationally sanctioned sports including Baseball, Fastpitch, Slow Pitch, Karate, Basketball, Soccer and more! For more information on USSSA and to register your team visit USSSA.com. Also be sure to visit USSSAToday.com for the latest USSSA News!