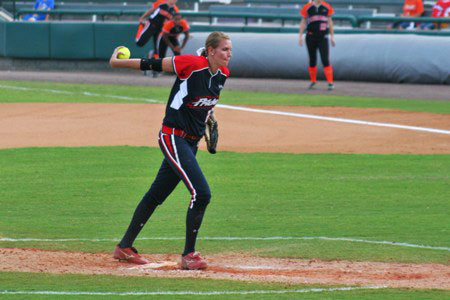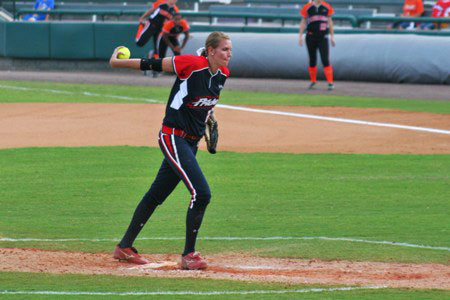 USSSA Pride's very own Sarah Pauly was inducted into her Alma Mater, Texas A&M Corpus Christi Hall of Fame. In her career in the NPF she has an ERA of 2.19 with 631 strikeouts.
She is one of five NCAA Division I pitchers to win 100 games, strikeout 1,000 batters, maintain a sub-1.00 ERA and average double-digit strikeouts for a career. From 2002-05, Pauly's record reads 112-46, 1,636 strikeouts, 57 shutouts and a 0.88 ERA in 1049.2 innings pitched.
As a freshman at Desert Vista High School in Phoenix, Pauly started to consider Texas A&M – Corpus Christi with a little help from the Islanders coaching staff.
"I was really interested in playing here because the coaches had been trying to recruit me since I was 16," Pauly said. "At the time I was interested in the Biology program and when I went to visit the campus my teammates really said they enjoyed it here.
"Playing at A&M – Corpus Christi, I was able to have a home away from home along with a family that I would be with on and off the field for four years and people who I looked up to and who looked up to me," Pauly added. "Playing here meant I was representing not only the state of Texas, but our university and city and that was a good feeling, because I knew that every one of my teammates and I wanted to be there and with a purpose."
Among the multitude of games she played in as an Islander, Pauly noted that winning the Big South Conference title three years in a row should be her greatest moment. However, the real pinnacle was in 2004, playing against Louisiana-Lafayette, who was ranked third in the nation at the time.
"We were facing them in a doubleheader and I threw the first game and we won 1-0," she said. "The second game my coach asked if I could throw again and of course I said, 'Yes. Give me the ball.' We beat them again 1-0 on their turf. I just remember that day and still to this day I remember thinking, 'We beat the No. 3 team in the nation, not once but twice.' It's an experience I'll never forget."
Following her senior year the record-breaking college star was drafted 16th to the Connecticut Brakettes in the NPF Draft on June 1, 2006. There she was named Pitcher of the Year and went on to the Cowles Cup Championships. Pauly has played for several NPF teams – the Brakettes, Washington Glory and USSSA Pride. In 2007 Pauly was invited to train with Team USA for six months, a year cycle in softball.
"It was very rewarding, just to be asked and invited to try out was such a privilege," Pauly noted. "After you train for a year you go train for the Olympics, that's where I stopped, but being a part of that was a great accomplishment and growing experience."
After arriving back in Corpus in December from playing in Japan with the professional fastpitch Honda team for the 2011 season, Pauly saw the game of softball in a whole different light.
"The differences between playing professionally in the U.S. and Japan were huge," Pauly said. "The practices would be six to nine hours long. A lot of my teammates would work for Honda and then come straight to practice after. Then once we thought the practice was over, we would lift weights for another hour."
But the work wasn't limited to just improving as a player on the field.
"Before every practice we would have to clean the balls and keep track of them and if we lost any, we would be on ball hunts and sometimes have to run," she said. "Of course the fields are a lot different, it was completely dirt and we would rake our own field.
"There was a lot of determination and compassion and the pace was a lot faster," Pauly added. "Compared to teams in the United States, where there are only four teams, there are 12 teams in Japan, so there's more competition. Some of my teammates would train as early as before elementary school. There was a huge language barrier, but there was an interpreter and we would also take some classes to understand the basics."
Pauly has amassed a list of accomplishments and it's not about to stop now. For the 2011-12 softball season, she has returned to her alma mater to be the pitching coach.
"Coming back to coach is something I eventually wanted to do," Pauly said. "I was just waiting for the right timing in my life. I am at a place where I feel comfortable and know that growth is in the future and I am anxious to be a part of that."
From being a student-athlete to a professional athlete; from playing overseas to being at home in the U.S.; from being a youngster playing the game to coaching at her alma mater, there is one theme that resounds for Pauly – an unconditional love for the game.
"The reward that this game has is what makes me love it," she said. "The whole outlook of this sport makes more sense now that I am out of college and an accomplished pitcher, but a long time ago there was a little girl who fell in love with the sport and never looked back.
"I had my ups and downs, but there are so many little girls out there just like me who are dying to be the next Jennie Finch. Being able to give back to them is what makes me continue to love the game."
About USSSA Florida Pride:
The USSSA Florida Pride is a professional franchise in the National Pro Fastpitch League that is owned and operated by USSSA. The amateur organization of USSSA has multi-sport coverage and encompasses teams and players from the United States and abroad.
About NPF:
National Pro Fastpitch is headquartered in Nashville, TN. The league, created to give elite female fastpitch players the opportunity to pursue a professional career in their chosen sport, has operated since 1997 under the names of Women's Pro Fastpitch (WPF) and Women's Pro Softball League (WPSL). NPF is the Official Development Partner of Major League Baseball in the category of women's fastpitch softball since 2002.
About USSSA:
The United States Specialty Sports Association (USSSA), headquartered in Osceola County, Florida, USSSA is the World's Largest Multi-sport Athletic Organization. Founded in 1968, USSSA has grown to over 3.7 million participants, competing in 13 nationally sanctioned sports including Baseball, Fastpitch, Slow Pitch, Karate, Basketball, Soccer and more! For more information on USSSA and to register your team visit USSSA.com. Also be sure to visit USSSAToday.com for the latest USSSA News!