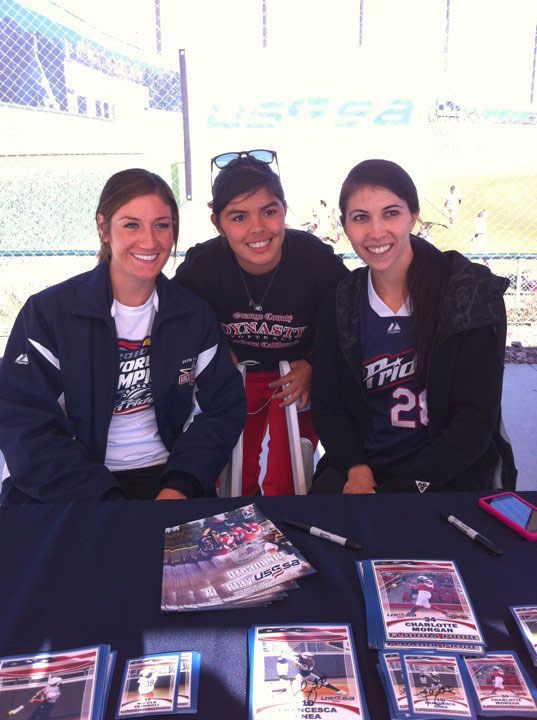 Come and support your USSSA Pride as they are making appearances and clinics across the country!
Triple Threat – (Jan. 29-30) Paducah, KY
Pride Players-Cat Osterman, Caitlin Lowe, Kelly Kretschman,Megan Willis
Showcase in the Desert- (Jan. 28-30) Las Vegas, NV
Pride Players- Francesca Enea, Andre Duran
Mental Game and Vision Drills- (Jan 29-30) University of New Mexico
Pride Player- Nicole Trimboli
Pitching Clinic- (Jan. 29-30) Toronto, Canada
Pride Player- Sara Pauly
About USSSA Florida Pride:
The USSSA Florida Pride is a professional franchise in the National Pro Fastpitch League that is owned and operated by USSSA. The amateur organization of USSSA has multi-sport coverage and encompasses teams and players from the United States and abroad.
About NPF:
National Pro Fastpitch is headquartered in Nashville, TN. The league, created to give elite female fastpitch players the opportunity to pursue a professional career in their chosen sport, has operated since 1997 under the names of Women's Pro Fastpitch (WPF) and Women's Pro Softball League (WPSL). NPF is the Official Development Partner of Major League Baseball in the category of women's fastpitch softball since 2002.
About USSSA:
The United States Specialty Sports Association (USSSA), headquartered in Osceola County, Florida, USSSA is the World's Largest Multi-sport Athletic Organization. Founded in 1968, USSSA has grown to over 3.7 million participants, competing in 13 nationally sanctioned sports including Baseball, Fastpitch, Slow Pitch, Karate, Basketball, Soccer and more! For more information on USSSA and to register your team visit USSSA.com. Also be sure to visit USSSAToday.com for the latest USSSA News!