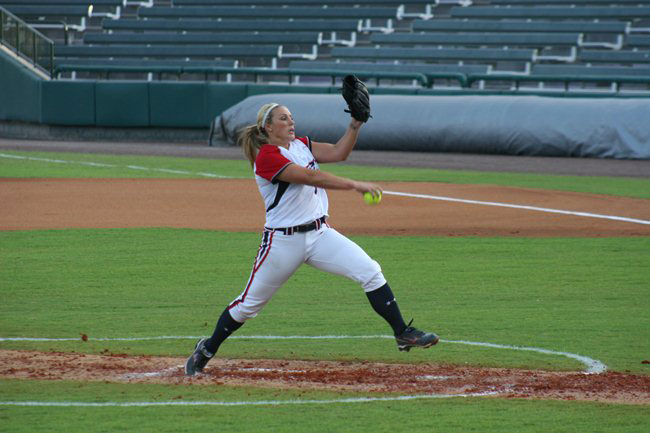 November 15, 2010
BADEN SPORTS ANNOUNCES DANIELLE LAWRIE SIGNING
Federal Way, WA (November 15, 2010) – Baden Sports Inc. announces the signing of Danielle Lawrie, 2-time NCAA National Player of the Year and member of the USSSA Florida Pride of the National Pro Fastpitch League. Lawrie commits to a multi-year endorsement agreement covering all Baden Fastpitch products, current and future. In announcing this agreement, Baden CEO Michael Schindler states, "We are thrilled to have someone of Danielle's caliber to represent the Baden brand and its products, especially as we prepare the launch of our groundbreaking line of AXE bats."
Lawrie will be counted on to add her expertise in enhancing the current line of fastpitch softballs along with having significant input in the design and development of future products. "Having Danielle lead the way for our fastpitch category offers enormous credibility in our goal of becoming a premier fastpitch brand", says Greg Barton, Director of Promotions for Baden Sports. "Her passion for the game of softball will be an invaluable asset to Baden both on and off the field."
Lawrie's signing marks a significant commitment on Baden's part to introduce a full line of innovative and technologically advanced baseball and softball products developed to enhance a player's performance at all age levels. "My choice to sign with Baden reflects my desire to represent a brand whose goals match my own – which is a relentless commitment to excellence", states Lawrie.
About Baden: Baden Sports, Inc., is a designer and producer of the highest quality athletic balls in sports. Baden's product leadership has led many collegiate conferences, professional leagues and elite coaches to choose Baden as their "Official Ball," including Bob Knight, the winningest coach in NCAA men's history. Headquartered in Federal Way, Wash., Baden's dedicated sales team serves customers worldwide. www.badensports.com
About USSSA Florida Pride:
The USSSA Florida Pride is a professional franchise in the National Pro Fastpitch League that is owned and operated by USSSA. The amateur organization of USSSA has multi-sport coverage and encompasses teams and players from the United States and abroad.
About NPF:
National Pro Fastpitch is headquartered in Nashville, TN. The league, created to give elite female fastpitch players the opportunity to pursue a professional career in their chosen sport, has operated since 1997 under the names of Women's Pro Fastpitch (WPF) and Women's Pro Softball League (WPSL). NPF is the Official Development Partner of Major League Baseball in the category of women's fastpitch softball since 2002.
About USSSA:
The United States Specialty Sports Association (USSSA), headquartered in Osceola County, Florida, USSSA is the World's Largest Multi-sport Athletic Organization. Founded in 1968, USSSA has grown to over 3.7 million participants, competing in 13 nationally sanctioned sports including Baseball, Fastpitch, Slow Pitch, Karate, Basketball, Soccer and more! For more information on USSSA and to register your team visit USSSA.com. Also be sure to visit USSSAToday.com for the latest USSSA News!