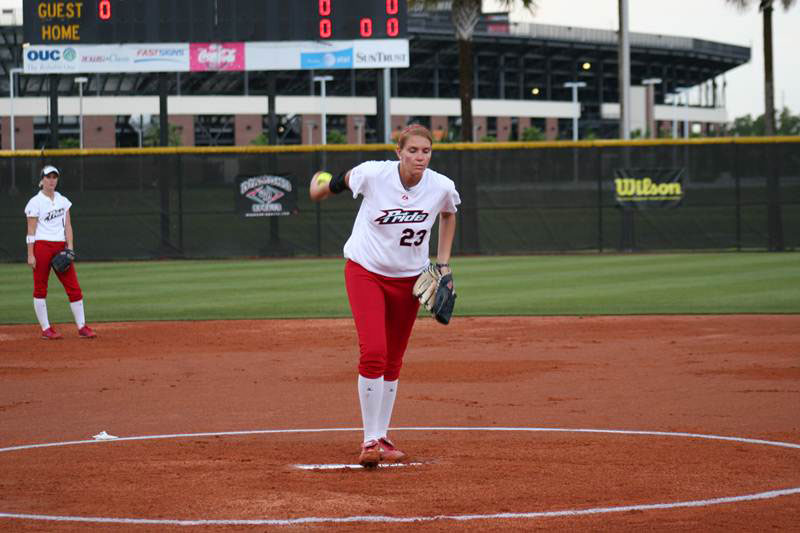 AKRON, Ohio (July 16, 2010) – The USSSA Pride staked an early 3-0 lead but the Akron bats lit up for seven runs in the third as the Racers rolled past the Pride, 9-4 in game three at Firestone Stadium.
In handing the USSSA Pride (14-11) its second-straight loss this series, the Racers (14-10) move into second place behind the Chicago Bandits.
Jamee Juarez (4-6) worked seven complete, allowing three runs on seven hits while striking out six batters to record her fourth win of the season. The Racers tagged Pride starter Desiree Serrano (2-4) early, as she gave up six runs (one earned) on four hits in just two innings and a third pitched to take the loss. Game two winner Sarah Pauly completed the game, throwing three innings and two thirds she gave up three runs on six hits.
Akron managed 10 hits in the game as four Racers, including Lisa Modglin, Jackie Pasquerella, Sharonda McDonald and Juarez each finished with two base knocks apiece while Samantha Ricketts and Juarez each tallied two RBI.
The Pride took control of the driver's seat early, jumping out to a 3-0 lead in the second and third frames. Charlotte Morgan drove in Kelly Kretschman who led off with a single in the second before Jessica Mendoza's two-run homer to right gave the Pride a 3-0 cushion after two and a half innings.
The complexion of the game drastically changed in the home half of the third as Akron pounded out seven hits and took advantage of three costly Pride errors to move ahead, 7-3. Pasquerella and McDonald got the Racers started with back-to-back singles before a Serrano throwing error enabled both to move into scoring position. Modglin then drove a RBI single to center before a fielding error on Andrea Duran allowed Jess Valis to reach first while McDonald crossed home plate, making it a 3-2 affair. The third error of the inning—a misplayed ball by Lauren Lappin saw Micaela Minner reach first while Modglin scored, tying the game at 3-all and chased Serrano from the game as Pauly entered in relief. Playing it safe, the Pride intentionally walked Crystl Bustos to little effect, setting the table for Kelley Montalvo who drew the RBI walk. Juarez then helped her own cause with a two-RBI single to center which Pasquerella followed up with a RBI single to center, putting Akron in front 7-3.
A scoreless fourth inning gave way to a two-run fifth as Ricketts put Akron back on the scoreboard on her fourth homer of the year with a deep shot to right field. The blast also scored pinch runner Trena Peel, running in place of Bustos who led off with a single to center to put Akron in front, 9-4.
Atop the sixth, Kretschman lofted a solo shot to left to make it a 9-4 game but Juarez shut the door soon thereafter, holding the Pride scoreless over the final inning and two thirds.
Game four at Firestone Stadium will take place tomorrow (Saturday, July 17) at 7:05 pm as the Racers celebrate a noble cause in pediatric cancer research with Kick-It For Kids Night (and appreciate sponsor Chick-Fil-A Night). For more information or tickets, please visit www.akronracers.org. To follow the series from home, you can catch the action live on MLB.com with a $19.95 season-long subscription or view live stats via www.pointstreak.com.
About USSSA Florida Pride:
The USSSA Florida Pride is a professional franchise in the National Pro Fastpitch League that is owned and operated by USSSA. The amateur organization of USSSA has multi-sport coverage and encompasses teams and players from the United States and abroad.
About NPF:
National Pro Fastpitch is headquartered in Nashville, TN. The league, created to give elite female fastpitch players the opportunity to pursue a professional career in their chosen sport, has operated since 1997 under the names of Women's Pro Fastpitch (WPF) and Women's Pro Softball League (WPSL). NPF is the Official Development Partner of Major League Baseball in the category of women's fastpitch softball since 2002.
About USSSA:
The United States Specialty Sports Association (USSSA), headquartered in Osceola County, Florida, USSSA is the World's Largest Multi-sport Athletic Organization. Founded in 1968, USSSA has grown to over 3.7 million participants, competing in 13 nationally sanctioned sports including Baseball, Fastpitch, Slow Pitch, Karate, Basketball, Soccer and more! For more information on USSSA and to register your team visit USSSA.com. Also be sure to visit USSSAToday.com for the latest USSSA News!