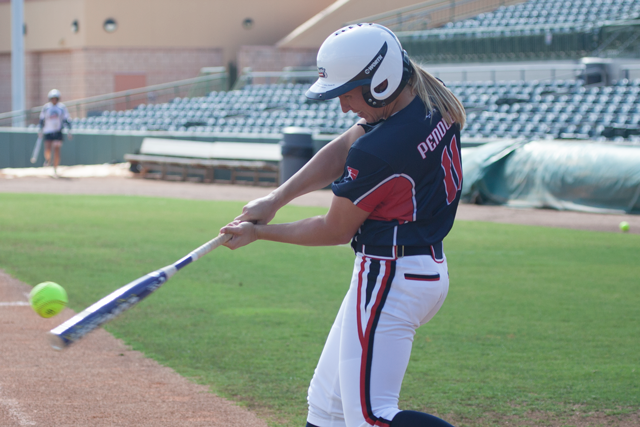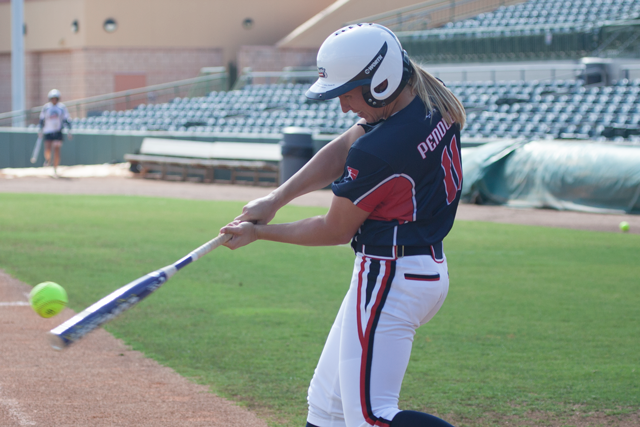 Kissimmee, FL –June 15, 2016—The USSSA Pride came out on top in a hard-fought battle from the Dallas Charge on Wednesday night. The Pride won the game 7-4 behind four home runs from three Pride players. Starting pitcher Chelsea Thomas got the win with Kelsey Nunley relieving her for the save.
The Charge jumped out early with a 3-0 lead in the first inning following back-to-back singles from Renada Davis and Kylee Lahners and a home run from pitcher Lauren Haeger. The Charge wouldn't score again until the fifth inning when Taylor Gadbois tagged up on a lineout from Lahners.
The Pride bounced back in the second inning after giving up three runs. Kirsti Merritt got things started by drawing a four-pitch walk. Missy Taukeiaho singled to left field to knock in the run. Shortly after, Kelly Kretschman singled to left field to bring in Chelsea Goodacre and make it 2-3.
Goodacre tied it up in the fourth inning. She hit her first home run of the season, a solo shot to make the score 3-3.
The fifth inning was the most eventful of the night. Kretschman homered to left field, tying the game at 4-3. Shelby Pendley followed her up with a home run of her own, sending it into the left field bleachers and pushing the lead to 5-3.
Kretschman did it again in the sixth when she sent another ball over the fence to make the score 6-4
The Pride secured an insurance run and the win in the seventh after Sierra Romero turned a single into a double and score on a hit to left field from Amanda Kamekona.
In four innings pitched Thomas faced 20 batters and gave up four runs on six hits with three walks. In three innings pitched, Nunley faced 12 batters and gave up just one hit with no runs.
Kretschman was named POWERHANDZ Player of the Game. She went 4-for-4 with two home runs and three RBI.
Player of the Game
Kelly Kretschman (4-4, 2 HR)
Final Score:
USSSA Pride: 7
Dallas Charge 4
Follow the Pride!
About USSSA Florida Pride: The USSSA Florida Pride is a professional franchise in the National Pro Fastpitch League that is owned and operated by USSSA. The amateur organization of USSSA has multi-sport coverage and encompasses teams and players from the United States and abroad.
About USSSA: The United States Specialty Sports Association (USSSA), headquartered in Osceola County, Florida, USSSA is the World's Largest Multi-sport Athletic Organization. Founded in 1968, USSSA has grown to over 3.7 million participants, competing in 13 nationally sanctioned sports including Baseball, Fastpitch, Slow Pitch, Karate, Basketball, Soccer and more! For more information on USSSA and to register your team visit USSSA.com. Also be sure to visit USSSAToday.com for the latest USSSA.
About National Pro Fastpitch (NPF): National Pro Fastpitch (NPF), an Official Development Partner of Major League Baseball since 2002, provides elite female athletes with an opportunity to pursue a professional career in diamond sports beyond their collegiate success. The 2016 NPF season will be televised on CBS Sports Network. Coverage includes the NPF College Draft presented by Bownet on Thur., April 14, followed by 23 regular-season games, a Championship Series Preview Special and the 2016 NPF Championship Series. The NPF recently announced that the Scrap Yard Dawgs, located in The Woodlands, Texas, will join the Akron Racers, Chicago Bandits, Dallas Charge, Pennsylvania Rebellion and USSSA Florida Pride for the 2016 season. National Pro Fastpitch players hail from the U.S., Australia, Canada, Japan, the Netherlands and New Zealand, representing the most accomplished and talented athletes in the sport of women's softball