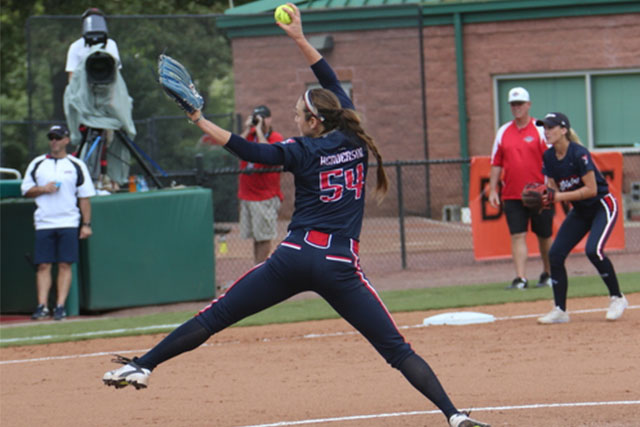 Tuscaloosa, AL-August 21, 2016 – Whatever chance the Akron Racers had of knocking off the top-seeded USSSA Pride in the semifinal round of the NPF Championship Series dissipated in a long sixth inning Sunday at Rhoads Stadium.
A quartet of Akron pitchers threw a total of 56 pitches in the inning as the Pride batted around in a revolving-door attack to score four runs on the way to a 6-2 victory.
USSSA Pride (39-13) eliminated Akron and advanced to the best-of-three championship round. The Pride defeated the Racers 3-0 on Friday in their first semifinal meeting.
Winning pitcher Jolene Henderson got an early lead and then the late outburst of support.
"Regardless of if it's early or late, I know it's going to come because we have such good hitters," she said.
The Pride took a 2-0 lead in the top of the first. NPF Player of the Year Kelly Kretschman drew a walk, as did Lauren Chamberlain. Kretschman scored on catcher Chelsea Goodacre's single to left field, and Chamberlain came home on an error.
Had it not been for the USSSA Pride's relentless top of the sixth, Akron might have tied the game on first baseman Sam Fischer's home run to left field in the bottom of that inning.
As it happened, however, the Pride had already taken an insurmountable lead. Center fielder Megan Wiggins started the bottom of the sixth off with a solo home run that stayed just inside the right field pole to make it 3-0, chasing Akron starter Sarah Pauly.
But that was only the beginning.
Reliever Aimee Creger walked the next two batters and was replaced by Laura Winter, who promptly walked Chamberlain to load the bases. Hallie Wilson and Sierra Romero hit back-to-back RBI singles and Haylie McCleney drove in another run on a sacrifice fly to make it 6-0. After another single, Jailyn Ford came out of the bullpen to finally record the third out and stop the bleeding.
It was typical USSSA Pride softball, with a lineup full of collegiate All-Americans coming at pitchers in waves.
"I think it's one of those things where we kind of feed off each other," Romero said. "We call it handing the bat back."
For Akron, it was like a never-ending inning.
"I think our team was battling and our pitchers were doing all they could do at the time," center fielder Taylor Schlopy said. "We were just trying to get the third out so we could get back up and score."
Akron warmed up to play three times on Saturday, but it was called off each time due to weather.
"I think we were in it the whole time," third baseman Kelley Montalvo said. "Yesterday was all the delays and everything, but I don't think that affected us at all. We came ready to play."
Winning pitcher Jolene Henderson (10-3) cruised through five innings, scattering three hits with one walk and three strikeouts for the win.
Pauly (7-7) took the loss. Fourth-seeded Akron finished with a 22-30 record.
Racers coach Brian Levin talked afterward about a season of ups and downs that ended with Akron not playing its best.
"It was a see-saw for us this year a little bit," he said. "Toward the end of the season, we hit a skid and we just couldn't figure it out."
Goodacre went 2-for-4 with an RBI for the Pride, and Romero went 2-for-3, also driving in a run. Schlopy went 2-for-2 for Akron.
BOX SCORE
PLAY BY PLAY
FOLLOW THE PRIDE
dev.usssapride.com
Facebook
Twitter
Instagram
About USSSA Florida Pride:
The USSSA Florida Pride is a professional franchise in the National Pro Fastpitch League that is owned and operated by USSSA. The amateur organization of USSSA has multi-sport coverage and encompasses teams and players from the United States and abroad.
About National Pro Fastpitch (NPF):
National Pro Fastpitch (NPF), an Official Development Partner of Major League Baseball since 2002, provides elite female athletes with an opportunity to pursue a professional career in diamond sports beyond their collegiate success.  The 2016 NPF season will be televised on CBS Sports Network. Coverage includes the NPF College Draft presented by Bownet on Thur., April 14, followed by 23 regular-season games, a Championship Series Preview Special and the 2016 NPF Championship Series.  The NPF recently announced that the Scrap Yard Dawgs, located in The Woodlands, Texas, will join the Akron Racers, Chicago Bandits, Dallas Charge, Pennsylvania Rebellion and USSSA Florida Pride for the 2016 season. National Pro Fastpitch players hail from the U.S., Australia, Canada, Japan, the Netherlands and New Zealand, representing the most accomplished and talented athletes in the sport of women's softball.