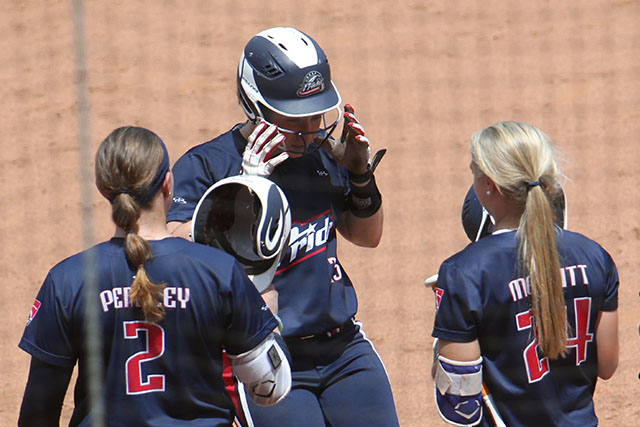 Tuscaloosa, AL-August 21, 2016 – The USSSA Pride's formula for success isn't fancy: a lot of pitching and some timely hitting.
The regular-season champion Pride stuck to that model to defeat the Chicago Bandits 3-1 on Sunday night at Rhoads Stadium in the opening game of the best-of-three NPF Championship Series.
A crowd of 1,618 for Sunday's session assured a new playoff attendance record, with 6,070 so far. The previous record of 5,592 for the entire event was set last year in Hoover.
The Pride (40-13) has a chance to claim the Cowles Cup with a second win over defending champion Chicago (24-27) on Monday night at 7 p.m. CT in a rematch of last year's title series.
"I think that they're a very scrappy team," Pride coach Lonni Alameda said of the Bandits, "very powerful but very scrappy."
Most of the scoring came by way of solo home runs. Megan Wiggins, batting in the leadoff position for the Pride, started the game off with a shot to right-center in the bottom of the first inning. Chelsea Goodacre led off the bottom of the second with a solo blast to nearly the same spot to make it 2-0. After the Pride got an RBI single from Lauren Chamberlain – driving in Wiggins, who had drawn a walk to lead off the bottom of the third – Chicago got in on the action in the top of the fifth inning with a leadoff solo homer from shortstop Kristen Brown, cutting the Pride's lead to 3-1.
Chicago had its best chance to get back into it after Brown's shot. Third baseman Jill Barrett beat out an infield single with one out, and outfielder Brittany Cervantes was hit by a pitch with two outs, giving the Bandits two runners on base. USSSA Pride starter Keilani Ricketts coaxed a fly ball to left field for the third out to end the threat.
"Some days for us, our best just isn't good enough," Chicago coach Mike Steuerwald said. "Our bench was outstanding: I don't know if there was one out, hit or pitch that I didn't hear all 15 in our dugout. Overall, I thought we did a great job of staying in that game."
The Pride handed the ball to closer Jordan Taylor to bring it home. She earned her 10th save with two innings of no-hit ball.
"I'm still adjusting," Taylor said. "It's ironic because in college the seventh inning was my worst inning.
"I still think (the closer role) is being defined in softball. It's not really a thing yet."
Ricketts (8-5), a left-hander, gave up one run on five hits in five innings with three strikeouts and no walks.
Morgan Foley (1-5) and Lacey Waldrop held the Pride to just five hits. The difference was that USSSA Pride hit with power, or with people in scoring position.
Goodacre went 2-for-3 with an RBI and one run scored. The second-year player is on a mission.
"I don't have a championship yet," she said, "and I don't have a (collegiate) national championship, so to be with this team fighting to win the last game is incredible."
Chicago isn't conceding anything.
"Obviously we don't like to make it easy," said Cervantes, who went 2-for-2. "We'll come back ready to play."
BOX SCORE
FOLLOW THE PRIDE
dev.usssapride.com
Facebook
Twitter
Instagram
About USSSA Florida Pride:
The USSSA Florida Pride is a professional franchise in the National Pro Fastpitch League that is owned and operated by USSSA. The amateur organization of USSSA has multi-sport coverage and encompasses teams and players from the United States and abroad.
About National Pro Fastpitch (NPF):
National Pro Fastpitch (NPF), an Official Development Partner of Major League Baseball since 2002, provides elite female athletes with an opportunity to pursue a professional career in diamond sports beyond their collegiate success.  The 2016 NPF season will be televised on CBS Sports Network. Coverage includes the NPF College Draft presented by Bownet on Thur., April 14, followed by 23 regular-season games, a Championship Series Preview Special and the 2016 NPF Championship Series.  The NPF recently announced that the Scrap Yard Dawgs, located in The Woodlands, Texas, will join the Akron Racers, Chicago Bandits, Dallas Charge, Pennsylvania Rebellion and USSSA Florida Pride for the 2016 season. National Pro Fastpitch players hail from the U.S., Australia, Canada, Japan, the Netherlands and New Zealand, representing the most accomplished and talented athletes in the sport of women's softball.