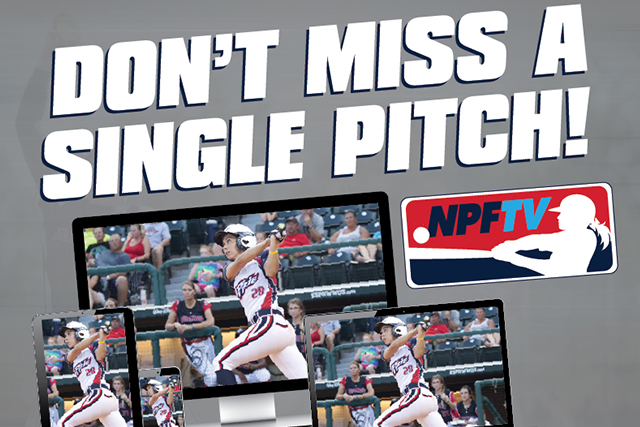 NASHVILLE, TN
(May 23, 2016) – National Pro Fastpitch announced today the launch of NPFTV, an online and mobile destination for fans interested in content related to NPF and the sport of softball in general, includinglive video coverage of NPF competition, archived video content of NPF drafts, championships, and competition, original video content and special features, video blogs, social media interaction and more. The innovative launch allows fans access regardless of their location or cable arrangement and provides NPF, its players, fans, equipment suppliers, and partners expanded access to share and promote professional fastpitch and the sport of softball overall.
"There is a perfect match that exists between our need to increase overall exposure of professional softball and the desire of fans worldwide to have total access to enjoy NPF competition," said Cheri Kempf, NPF Commissioner. "We believe this is the first step in extending total access coverage and expanding our overall fan base through what will ultimately grow into an all-encompassing digital platform."
NPFTV will be home to all 2016 regular season action that is not covered in the league's national television agreement with CBS Sports Network. In total, NPFTV will be host to a minimum of 125 games of the 2016 season along with a possible three additional Championship Series games. In addition, archived video content of past NPF competition and events dating back to 2004 will be available as Video On-Demand (VOD) options. The platform will also contain original and exclusive content created by players, league partners and independent contributors.
"NPF team owners have always taken a great deal of pride in paving the path to legitimizing this great sport of softball at the professional level," commented Kempf. "No group is better suited to take this significant step forward in advancing and expanding the overall exposure of the game and its very best athletes, than the NPF. We are confident that fans will share in our enthusiasm and show their overall support in subscribing."
NPFTV is available through subscriptions on an annual, monthly, or single event basis. Annual passes are $49.99, monthly passes are $29.99, and single event passes are $4.99. Subscriptions can be accessed through the NPF website at www.profastpitch.com. NPF also has slated a complimentary NPFTV Game of the Week that will stream free throughout the season.
NPFTV is accessible online and on mobile devices at http://www.profastpitch.com/npf-tv

About USSSA Florida Pride: The USSSA Florida Pride is a professional franchise in the National Pro Fastpitch League that is owned and operated by USSSA. The amateur organization of USSSA has multi-sport coverage and encompasses teams and players from the United States and abroad.
About USSSA: USSSA is headquartered in Osceola County, Florida. USSSA is the World's Largest Multi-sport Athletic Organization. Founded in 1968, USSSA has grown to over 3.7 million participants, competing in 13 nationally sanctioned sports including Baseball, Fastpitch, Slow Pitch, Karate, Basketball, Soccer and more! For more information on USSSA and to register your team visit USSSA.com. Also be sure to visit USSSAToday.com for the latest USSSA.
About National Pro Fastpitch (NPF)
National Pro Fastpitch (NPF), an Official Development Partner of Major League Baseball since 2002, provides elite female athletes with an opportunity to pursue a professional career in diamond sports beyond their collegiate success. The 2016 NPF season will be televised on CBS Sports Network. Coverage includes the NPF College Draft presented by Bownet on Thur., April 14, followed by 23 regular-season games, a Championship Series Preview Special and the 2016 NPF Championship Series. The NPF recently announced that the Scrap Yard Dawgs, located in The Woodlands, Texas, will join the Akron Racers, Chicago Bandits, Dallas Charge, Pennsylvania Rebellion and USSSA Pride for the 2016 season. National Pro Fastpitch players hail from the U.S., Argentina, Australia, Canada, Japan, the Netherlands and New Zealand, representing the most accomplished and talented athletes in the sport of women's softball.