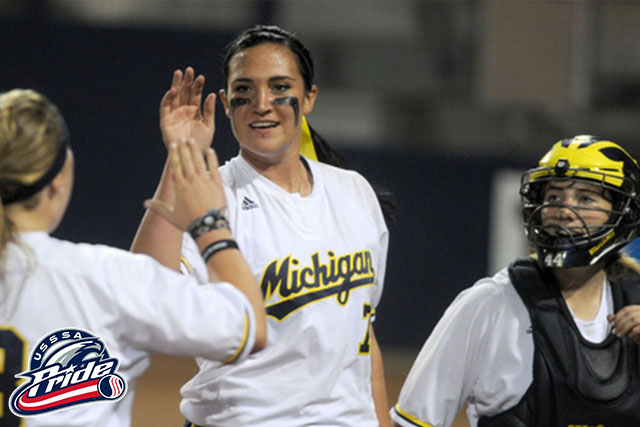 The evolution of recruiting chronicles the recruiting journeys of USSSA Pride players. Each player narrates their own story and how they ultimately made the decision on where to play college softball. Watch how recruiting has changed through the years from the stories of each player. The evolution of recruiting begins in the 1990s and ends with the recent processes of our Pride rookies.
The next recruiting story is from Jordan Taylor who graduated from the University of Michigan with eight career pitching records including the most wins, strikeouts, and no hitters. Taylor's storied Wolverine career includes three NFCA All American awards, 2010 Big Ten Pitcher of the Year, and 2008 Big 10 Freshman of the Year. Despite the change of climates from Southern California to the Great Lakes, Taylors said once she visited the University of Michigan campus, she knew she wanted "to call Ann Arbor home."
"That top 7, however, was quickly whittled down to 3 in a matter of 2 weeks in the first wave of early commits. All the early committing can probably be blamed on the 2007 pitchers, who all committed very shortly after September 1st of junior year." Jordan Taylor
"We make a big recruiting weekend every January, and get Cali kids to come see us during that time.  Jordan helped us inspire that!" Michigan Head Coach Carol Hutchins
Athlete: Jordan Taylor
Alma Mater: Michigan, 2011
Year you committed:  2005. Fall of my junior year.
How old were you when you committed: 16
How many official visits did you take? 0
How many unofficial visits did you take? 5
Did you make a recruiting video? No.
How old were you when you first learned/thought about playing getting a scholarship to play in college?
JT: I didn't really know it was a viable option until I started competing on teams in Orange County. Where I grew up, Santa Clarita Valley, is a mecca for competitive softball and I could never break into the elite group. My mom had the foresight to branch out and sign me up for tryouts for various OC teams like California Cruisers, Batbusters, Firecrackers, and eventually Gordon's Panthers. It wasn't really clear to me that I could actually play college softball until the beginning of 16U.
When did you first start getting serious about the recruiting process? Explain the steps you took (videos/emailing coaches/camps/tournaments/showcases/visits).
JT: I was very fortunate to have amazing travel ball coaches growing up. They really worked for their players and made sure that every college that peaked our interest would at least show up to watch a game. I didn't make videos or go to college camps to be seen. My first 18 Gold coaches essentially said write down your top 10 schools and we'll work for you. The catch was that you had to work on your end, too. My mom definitely held me accountable throughout the entire process and made sure that I thanked every coach who emailed, sent camp flyers, came to a game, etc. Almost every day after school, I would come home to various letters and would sit down and email each coach back. From that, I narrowed down my list into about a top 7. That top 7, however, was quickly whittled down to 3 in a matter of 2 weeks in the first wave of early commits. All the early committing can probably be blamed on the 2007 pitchers, who all committed very shortly after September 1st of junior year. I always knew that Michigan was my #1, so that rush of commits didn't really affect me other than commit a little earlier. I took a total of 4 visits, 2 were "junior days" where they had several commits on campus all at once. I ended up going to the 1st Adidas Combine Camp with Derek and Joann Allister, but I had already committed. Looking back at the roster of girls who participated in that camp, there were lots of future All-Americans at that camp!
From Michigan Head Coach Carol Hutchins:
"I remember going out to (Pacifica HS)  to watch a kid we were interested in.  We watched Larry Mays Panthers play against his young UP coming Panthers. Larry was actually sitting in the stands, watching with the rest of us..(He was nursing a bum leg).  This tall skinny kid was on the mound for the Little Panthers, she immediately peaked my interest,  and I went up to Larry to ask who she was.  He looked around and said "HMMMM"…and had to ask one of the field coaches.  Turns out her name was Jordan Taylor!  So we followed her."
Describe how you committed to your school.
JT: Michigan wanted me to come visit in the fall during a home football weekend in my sophomore year, but my mom wanted to make sure I reallllly understood what Michigan winter meant. So, a visit was scheduled for the first week of February. Problem was, it was 45 degrees and not a spot of snow on the ground. During the email process, I had emailed Hutch about why I wanted to go to Michigan and included a long list of reasons, ending in "snow." I wanted to go somewhere that had snow. She saved the email. She tells everyone about that email, trying to prove that So Cal girls who grew up with palm trees can survive the tundra that Michigan winter can become. Since there wasn't any snow, some of the current Michigan girls hung up snowflakes in the locker room. I had already fallen in love with the campus and the environment when I stepped into Ann Arbor, but that set everything apart.
"Jordan emailed me and said she wanted to visit, IN THE WINTER, as one of the reasons she was interested in us was because of the "weather"!!  I don't hear that a lot… She did visit in Feb, we didn't have much winter going on at that time…but we just showed her MICHIGAN!   Since Jordan's recruitment, we have made the winter a HUGE recruiting tool, as we have the one thing that most top 10 schools DON'T have: WINTER!" Coach Hutchins
I told Hutch and other schools that I was considering that I would wait until after the 2006 season to decide. However, I knew as soon as I visited Michigan that I wanted to call Ann Arbor home. I committed very shortly after my visit around February/March of 2006.
Why did you commit to this school and why at that time?
JT: Again, I was very lucky to have very good travel ball coaches growing up. Larry Mays from the Gordon's Panthers told us to watch for specific things when watching college teams. Things like composure of the athletes and coaches when something goes wrong, how athletes conducted themselves off the field after games, and, in huddles, if the athletes were attentive to the coach, making eye contact, leaning in, etc. When I watched Michigan play for the first time, I saw all positives, especially when it came to the players hanging on every word that Hutch said. I remember thinking, I can definitely play for her, play for Michigan. I committed earlier than I originally intended, only because at the time, I thought I was doing the other colleges a favor. I knew I wanted to go to Michigan and, except for extreme circumstances; nothing was going to change my mind. I didn't see the need to keep people waiting or lead them on.
What happened from the time you committed to the time you stepped on campus?
JT: I played for a highly competitive high school team and travel ball team. I played with a lot of girls year round who were going to D1 schools. We all held each other accountable and really made sure that we didn't let up. I talked to the coaches every once in awhile on the phone or through text. I didn't have any program or anything that I did. I just kept competing and making sure that I was trying to get better.
Looking back on your recruiting story, what stands out the most?
JT: I really took the process seriously and made sure that I showed my appreciation for all the coaches who put in the time to recruit me. I was never the best one out there. I was always that bubble player, so I think I was able to enjoy the process a little bit more. I'm very grateful that my mom forced me to do everything myself. I researched, I watched games, I emailed, and after I committed, I wrote letters to all the coaches who recruited me. In fact, my first day as a member of the Pride, Tim Walton brought it up and said he remembered that throughout my career.
What's your advice to athletes now on the recruiting process?
JT: Enjoy the process!!! Make sure you know what your options are and what you're really getting into with your college choice. There are so many great universities and softball programs across the country that it's a shame to see someone commit somewhere for the wrong reasons and be unhappy. Keep academics in mind, especially if you know exactly what you want to do. Also, don't go to a school if the only thing you like is the coach. If you go to a school strictly for a coach and they leave or get fired, you're either stuck at the school that you didn't really like or left with possible red-shirt from transferring.