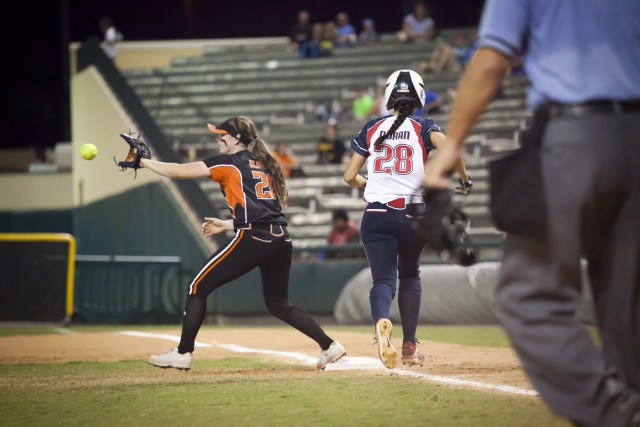 Kissimmee, FL – July 15th- Chicago's Monica Abbott tossed a one-hitter as the Bandits (22-9) shutout the USSSA Pride (21-8) 2-0 Wednesday night at Champion Stadium.
Chicago jumped out to a 1-0 lead in their first at-bat on Vicky Galasso's RBI single back through the middle, scoring Tammy Williams.
The Bandits added another run in the next frame as Brenna Moss reached on a two-base overthrow by the Pride third baseman and was singled home by Emily Allard two batters later.
Monica Abbott (W, 7-1) retired the first ten Pride batters of the game and 12 of the first 13 before surrendering Bridgette Del Ponte's single to lead of fifth inning.  She struck out 9 hitters over seven frames, lowering her ERA to .55 in the process.
The Pride's Chelsea Thomas (L, 4-2) also went the distance in the circle, allowing the pair of unearned runs on four hits while racking up five strikeouts.
The final game of the four game series between the Pride and Bandits will take place tomorrow, Thurs. July 16, at Champion Stadium with first pitch scheduled for 7:05 p.m.
About USSSA Florida Pride: The USSSA Florida Pride is a professional franchise in the National Pro Fastpitch League that is owned and operated by USSSA. The amateur organization of USSSA has multi-sport coverage and encompasses teams and players from the United States and abroad.
About the NPF: National Pro Fastpitch is headquartered in Nashville, TN. The league, created to give elite female fastpitch players the opportunity to pursue a professional career in their chosen sport, has operated since 1997 under the names of Women's Pro Fastpitch (WPF) and Women's Pro Softball League (WPSL). NPF is the Official Development Partner of Major League Baseball in the category of women's fastpitch softball since 2002.
About USSSA: USSSA is headquartered in Osceola County, Florida. USSSA is the World's Largest Multi-sport Athletic Organization. Founded in 1968, USSSA has grown to over 3.7 million participants, competing in 13 nationally sanctioned sports including Baseball, Fastpitch, Slow Pitch, Karate, Basketball, Soccer and more! For more information on USSSA and to register your team visit USSSA.com. Also be sure to visit USSSAToday.com for the latest USSSA.