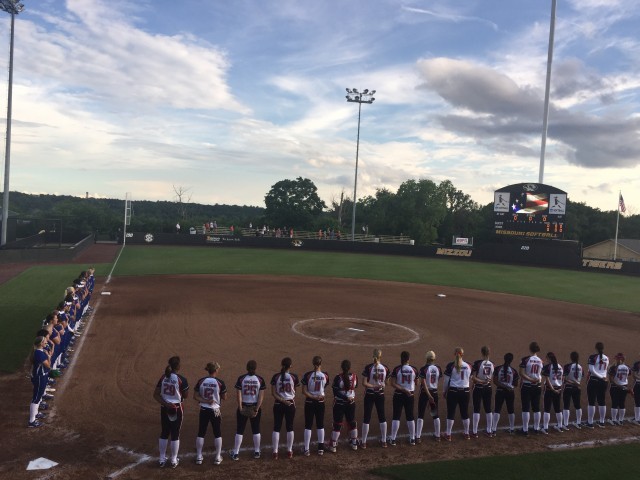 Columbia, MO –June 15 2015 – Behind a stellar outing from the Dallas Charge starting pitcher Jolene Henderson, the visiting Charge defeated the USSSA Florida Pride 4-1 Monday evening at the University of Missouri.  Henderson allowed a first inning run, but rebounded in fine fashion with six consecutive shutout innings to seal the win.
Pride centerfielder Megan Wiggins opened up the night's scoring with an RBI single in the first inning.  Two of the Pride's six hits Friday night came in the first inning, as they appeared to be primed for a strong showing at the plate.
In the top of the third, Charge right fielder Eri Yamada ripped a single to right to drive in her team's first run.  Four batters later, third baseman Danielle Henderson put the Charge on top with an RBI double.
The Charge bats wouldn't stop there.  Following a leadoff tripe by Charge's Yamada, second baseman Taylor Thom recorded a sacrifice fly to push the Dallas lead to 3-1.  The run also marked the end of Pride starting pitcher Chelsea Thomas' night as she surrendered three earned runs in 5.0 innings pitched.
Florida went to the bullpen in the sixth inning, and Dallas pinch hitter Nadia Taylor welcomed reliever Andrea Williamson with a towering home run to centerfield.
Henderson threw up a zero in the top of the seventh to close out her outstanding complete game victory in the circle.  Monday night's start was her first of the 2015 season.
The Pride and Charge conclude their two-game set Tuesday evening at University Field.  First pitch is scheduled for 8:05pm EST.  If you can't make it out, tune in to ESPN3 or watch the live stream at http://www.usssalive.com/espn3.aspx
OFFICIAL BOX SCORE:
Location: University Field, University of Missouri
Score: Charge 4, Pride 1
Records: Pride (5-2), Charge (4-6)
About USSSA Florida Pride:
The USSSA Florida Pride is a professional franchise in the National Pro Fastpitch League that is owned and operated by USSSA. The amateur organization of USSSA has multi-sport coverage and encompasses teams and players from the United States and abroad.
About NPF:
National Pro Fastpitch is headquartered in Nashville, TN. The league, created to give elite female fastpitch players the opportunity to pursue a professional career in their chosen sport, has operated since 1997 under the names of Women's Pro Fastpitch (WPF) and Women's Pro Softball League (WPSL). NPF is the Official Development Partner of Major League Baseball in the category of women's fastpitch softball since 2002.
About USSSA:
USSSA is headquartered in Osceola County, Florida. USSSA is the World's largest Multi-sport Athletic Organization. Founded in 1968, USSSA has grown to over 3.7 million participants, competing in 13 nationally sanctioned sports including Baseball, Fastpitch, Slow Pitch, Karate, Basketball, Soccer and more! For more information on USSSA and to register your team visit USSSA.com. Also be sure to visit USSSAToday.com for the latest USSSA News!