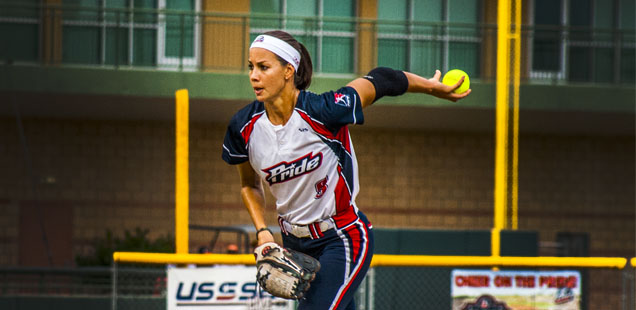 By: Cat Osterman
Happy New Year Pride fans!
I hope everyone had a happy, safe and love filled holiday season! I just got back to Austin Saturday night after being gone since Dec 19th! The holiday season took me to Charlotte, Houston and Schenectady, NY! I was able to see the Panthers win and clinch a playoff spot, have Santa visit in Houston, and snowboard and ride a bobsled in Lake Placid! I think I covered all my bases, and I'm glad to be home for a while!
With a new year always come resolutions! Now, I am a big advocate for making changes when you feel you need to, and not waiting until the New Year. However, I still make resolutions in order to try and better myself. I guess I look at it as a time to reflect on what I can change, instead of waiting until then to make changes. With that, here are a few of my resolutions:
1. Be present. This may not make a lot of sense to everyone, but it's something I am very bad at. I am an extreme multi-tasker, which usually means if I am in conversation with someone I hear about half of what they say because I am texting, typing, or working on something else while trying to talk. This is a bad habit that I want to break. I've already started to work on being present in the moment or with the company I am keeping. This means my phone is put away or off to the side, and I only answer it if it's important. My mom commented over vacation I wasn't on it near as much as I used to be, so I guess I have already gotten a little better!
At Texas State we had sport psychologist Brian Cain come in and speak to our kids. One thing he said that really stuck with me was "be where your feet are." Mentally and emotionally you have to be in the present where you are physically. The result I hope to get out of this resolution… enhanced experiences with people that are important to me. Also, enjoying every moment put in front of me. You can't get moments back, so why let them slip away by being distracted.
2. Every year I make a resolution to read 1 book a month. I don't put expectations or limitations on what type of book or how long it should be. I guess if I wanted the easy way out, I could read a Dr. Seuss book each month and count it, but that's not how I operate. I have yet to actually accomplish this goal for a number of reasons. Graduate classes have gotten in the way of my reading for fun, but I am not using that as an excuse anymore. I have already read my book for January! I completed it in 2 days actually. It was "The 4 Agreements." AK (Amanda Kamekona) is one of my reading buddies on the team, and she recommended it this summer. I recommend it to anyone! I bet you'll reflect and see yourself and life a little differently. I will read for class, which doesn't count towards my resolution, and continue to find a book each month that I want to read. Some are fiction, some non-fiction… it varies! We'll see how successful I am this time around!

3. My last resolution is to commit myself to personal time each day. With working out, work, pitching, and everything else I put on my plate, I don't take enough time out for myself. I want to take time to write, to pray, to read, to do things that make me relax and enjoy life. The details on how I plan to implement this are still in the works, but I will find time to do this whether it's waking up earlier or sacrificing TV time for it. We all need some quiet alone time, but most of us don't make the time for it!
I hope each and every one of you have had a great start to 2015! I have a feeling this is going to be a great year. I look forward to what 2015 has in store for me in every realm of life.
Til February….
#8