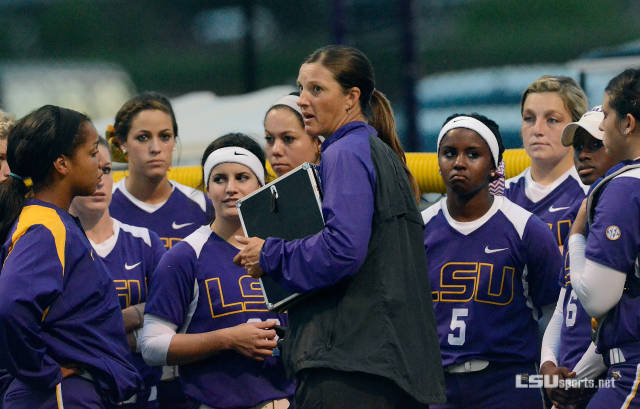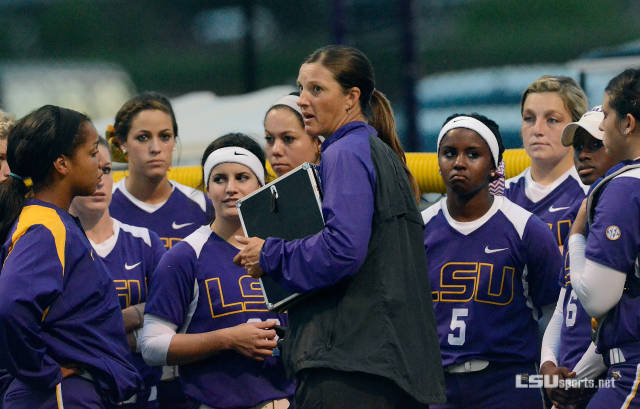 Baton Rouge –September 30, 2013- The USSSA Florida Pride defeated the LSU softball team by a score of 11-0 during an exhibition game Monday at Tiger Park which featured a pitching match-up between former LSU teammates Ashley Czechner and Rachele Fico.
During her senior season, Fico received NFCA All-America First-Team honors for the second straight season to become only the third player in program history joining Ashlee Ducote (1998 & 2000) and Britni Sneed (2001 & 2002) to accomplish that feat.  She also received NFCA All-South First-Team, All-SEC Second-Team and All-Louisiana First-Team Accolades.
"I think facing Fico was just fun for everybody," said LSU head coach Beth Torina.  "It was just nice to have this opportunity for our fans to let them see this caliber of softball on our field. So just having her here and having her back is fun. It was exciting."
The USSSA scored their first run in the top of the first inning as Kristyn Sandberg hit a line drive down the left baseline.  The RBI single brought in Kelly Kretschman to give the Pride a 1-0 lead.
The Pride added to their score in the second inning when Lisa Norris connected for a solo homerun off Czechner.
In the top of the fourth inning, Bridget Del Ponte entered the game as a pinch runner after Norris reached on a single.  Del Ponte increased the Pride's lead to 3-0 when she scored off two Tiger Errors.
The Pride added three more runs in the fifth inning.  Angeline Quiocho scored on an RBI double by Gionna DiSalvatore.  On the next play, DiSalvatore added a run of her own off an LSU error.  Enea rounded out the inning as her 2 RBI homerun brought in Andrea Duran.
With the bases loaded in the sixth inning, Duran reached on a fielder's choice, bringing in DiSalvatore.  Quiocho's run added one more to increase the Pride's lead to 9-0.
DiSalvatore's 2 RBI double in the seventh brought in Quiocho and Kretschman to bring the final score to 11-0.
LSU returns to action this weekend and plays host to its fall tournament.  Admission is free for all fall games.
For all of the latest news and information on Tiger softball, visit www.lsusports.net/softball. Fans can also follow the program on its social media outlets at www.Facebook.com/lsusoftball along with @lsusoftball and @bethtorina on Twitter and @lsusb on Instragram.
2013 LSU Softball Fall Schedule – All Games at Tiger Park
Date Opponent Time
Sept. 30 USSSA Florida Pride 7 p.m.
Oct. 5 Lamar 6 p.m.
Oct. 5 Nicholls State 8 p.m.
Oct. 6 Louisiana-Monroe 4 p.m.
Oct. 6 LSU-Eunice 6 p.m.
Oct. 19 LSU-Eunice 12 p.m.
Oct. 23 McNeese State [Doubleheader] 5 p.m.
2013 LSU Fall Tournament Full Schedule
Saturday, October 5
10 a.m. – Bellhaven vs. LSU-Eunice
12 p.m. – Lamar vs. LSU-Eunice
2 p.m. – Bellhaven vs. Lamar
4 p.m. – Bellhaven vs. Nicholls State
6 p.m. – LSU vs. Lamar
8 p.m. – LSU vs. Nicholls State
Sunday, October 6
10 a.m. – Louisiana-Monroe vs. LSU-Eunice
12 p.m. – Nicholls State vs. Louisiana-Monroe
2 p.m. – Nicholls State vs. LSU-Eunice
4 p.m. – LSU vs. Louisiana-Monroe
6 p.m. – LSU vs. LSU-Eunice
Softball Postgame Quotes
LSU vs. USSSA Florida Pride – September 30, 2013
HEAD COACH BETH TORINA
On tonight's performance against the USSSA Florida Pride…
"Obviously the defense is going to get cleaned up. That seems pretty obvious. We haven't had a lot of reps. These girls are professional softball players. They hit the ball hard and we don't see a lot of that. So it is different from what we see and we didn't have a lot of time to prepare."
On how to improve from tonight's performace…
"I think it is just about creating our team's identity and seeing who is going to step up as leaders and seeing what roles these girls are going to play. I think really we are just trying to figure out who we are. A lot of the defensive and offensive things will be cleaned up. We just need more time and more practice. Obviously I we have only practiced four times."
CF A.J. ANDREWS
On tonight's performance against the USSSA Florida Pride…
"It is just very early right now. We are just learning and getting together as a team. We have had only four practices before this game. I just think this is a very good opportunity to play the pros. I think we learned a lot and we are going to get better with more practice."
About USSSA:
The United States Specialty Sports Association (USSSA), headquartered in Osceola County, Florida, USSSA is the World's Largest Multi-sport Athletic Organization. Founded in 1968, USSSA has grown to over 3.7 million participants, competing in 13 nationally sanctioned sports including Baseball, Fastpitch, Slow Pitch, Karate, Basketball, Soccer and more! For more information on USSSA and to register your team visit USSSA.com. Also be sure to visit USSSAToday.com for the latest USSSA News!
by Cari Gold, Student Assistant SID
Click Here to see the real article on LSU.com !