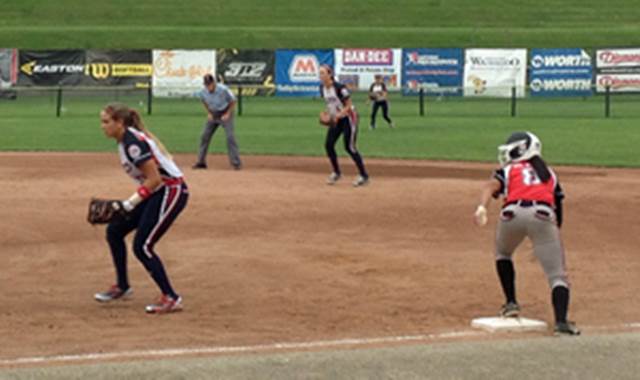 AKRON, OH – July 12, 2013 – The Akron Racers struggled against the USSSA Pride on both sides of the ball in tonight's 12 -1 loss to the Pride. The Racers batters managed just four hits and one run while the Racers pitchers combined to give up 12 runs on 15 hits. Brittany Mack was charged with the loss for the Racers and Sarah Pauly receives the win for the Pride. Mack's record is now 2-4 and Pauly jumps to 8-4.
Mack pitched just 2.0 innings and finished with a line of seven hits, eight runs, two walks, and one strike out. She struggled early and started the game by walking Natasha Watley on a full count. Watley proceeded to make it around the bases and was able to score on a sac hit by Kristyn Sandberg and gave USSSA a 1-0 lead in the first inning.
The Pride leapt ahead to an even larger lead in the second inning. Andrea Duran lead off for the Pride and hit a solo home run into left field to boost the lead to 2-0. Then Mack followed by striking out Francesca Enea, before Lauren Lappin reached on a bunt. After that, the Pride were able to find holes in the Racers infield. Ashley Charters hit a ball into right field just beyond Aja Paculba's glove. Watley followed by walking again. Caitlin Lowe hit a ball into left field past a diving Del Ponte and Lappin scored from third to give the Pride a 3-0 lead. Kelly Kretschman hit a single into right field and Watley and Charters both scored. Lowe scored on a wild pitch and the Pride led 6-0 at the end of the second.
USSSA added two more to their lead in the third inning on a two run homerun by Francesca Enea after Andrea Duran started the inning off with a double. After the Pride jumped ahead to 8-0, Jen Mineau came in to relieve Brittany Mack. Mineau got Lappin to fly out to right field for the first out of the inning but walked Ashley Charters immediately after Lappin's fly out. Mineau was able to get the next two batters to ground out to second and get out of the inning.
In the fourth inning, the Pride tacked on four more runs. With the bases loaded, Duran hit a bouncing grounder into centerfield and Nikia Williams came around to score from third. However, Karino made a solid throw from centerfield to Castillo at home plate and Castillo was able to get Sandberg out at the plate. Then, Francesca Enea hit an identical bouncing grounder into centerfield to Karino again, but this time Castillo was not able to make the tag at home on Karino's throw. With the Pride leading 11-0, Hillary Bach came into relieve Mineau. Mineau pitched 1.1 innings and gave up four runs on four hits and had one walk. Bach faced Lappin first after coming into the circle and she sac flied into right field and allowed the runners to tag up and Andrea Duran came home to score. Ashley Charters followed with a single and Enea came home to add another run to bring the Pride lead to 12-0.
Keilani Ricketts came in for relief for the Pride in the bottom of the fifth inning. Pauly threw for four innings and gave up two hits to go along with one walk and struck out six. Ricketts pitched 3.0 innings and gave up two hits, one run, and one walk. She had three strikeouts and received the save.
The Racers were finally able to get on the board in the bottom of the sixth inning. Kaylyn Castillo sent a long fly ball into left field and was able to run out a double. Jessica Garcia followed by sending a long ball of her own into right field and was able to advance to second on an error, while Castillo was able to come around to score, bringing the score to 12-1.
The Racers return to action in the second game of their four game series against the Pride tomorrow night at 7:05 pm. The game will be taped and rebroadcast on Tuesday on the Time Warner Sports Network.
About USSSA Florida Pride:
The USSSA Florida Pride is a professional franchise in the National Pro Fastpitch League that is owned and operated by USSSA. The amateur organization of USSSA has multi-sport coverage and encompasses teams and players from the United States and abroad.
About NPF:
National Pro Fastpitch is headquartered in Nashville, TN. The league, created to give elite female fastpitch players the opportunity to pursue a professional career in their chosen sport, has operated since 1997 under the names of Women's Pro Fastpitch (WPF) and Women's Pro Softball League (WPSL). NPF is the Official Development Partner of Major League Baseball in the category of women's fastpitch softball since 2002.
About USSSA:
The United States Specialty Sports Association (USSSA), headquartered in Osceola County, Florida, USSSA is the World's Largest Multi-sport Athletic Organization. Founded in 1968, USSSA has grown to over 3.7 million participants, competing in 13 nationally sanctioned sports including Baseball, Fastpitch, Slow Pitch, Karate, Basketball, Soccer and more! For more information on USSSA and to register your team visit USSSA.com. Also be sure to visit USSSAToday.com for the latest USSSA News!