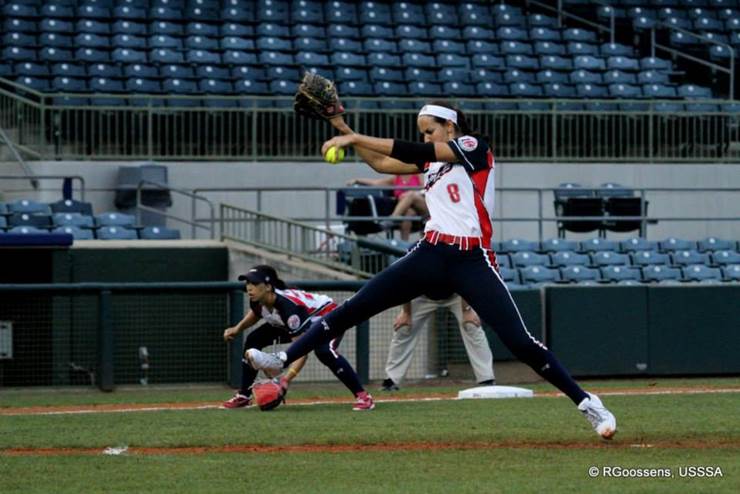 Pride: 1
Bandits: 0
KISSIMMEE, FL – Cat Osterman pitched a complete nine-inning contest in a 1-0 Pride win against Chicago on Monday night at Osceola County Stadium.
Cat Osterman and Michelle Gascoigne took the mound in what would be a fantastic display of pitching from both players. Both pitchers held the opponents offense in check throughout the game.
The Pride threatened in the seventh with runners on first and second, after Francesca Enea reached by walk and Lauren Lappin singled. After a dominant pitching performance by Michelle Gascoigne, she would be relieved by Monica Abbott, who forced a double play to end the inning.
Leading off the bottom of the ninth was Caitlin Lowe (2-4) who would single and then steal second base, bringing up the veteran Kelly Kretschman. Kretschman hit a ground ball that deflected off Abbotts glove and Abbott would overthrow first base, bringing in Lowe to score for the walk off win.
Osterman (13-2) would get the win, pitching a full nine innings, striking out 12 while walking two.
Michelle Gascoigne (4-0) had a superb outing, shutting out the Pride offense in 6.1 innings. She gave up four hits, struck out five, while walking two.
Monica Abbott would suffer the loss for the Bandits which will be only her second of the season. Coming into the game in relief she struck out one, while giving up two hits and an earned run in an inning and two thirds of work.
The two teams face off again Tuesday night in a double header at Osceola County Stadium. Coverage begins at 5:35 p.m. on USSSALive.com
About USSSA Florida Pride:
The USSSA Florida Pride is a professional franchise in the National Pro Fastpitch League that is owned and operated by USSSA. The amateur organization of USSSA has multi-sport coverage and encompasses teams and players from the United States and abroad.
About NPF:
National Pro Fastpitch is headquartered in Nashville, TN. The league, created to give elite female fastpitch players the opportunity to pursue a professional career in their chosen sport, has operated since 1997 under the names of Women's Pro Fastpitch (WPF) and Women's Pro Softball League (WPSL). NPF is the Official Development Partner of Major League Baseball in the category of women's fastpitch softball since 2002.
About USSSA:
The United States Specialty Sports Association (USSSA), headquartered in Osceola County, Florida, USSSA is the World's Largest Multi-sport Athletic Organization. Founded in 1968, USSSA has grown to over 3.7 million participants, competing in 13 nationally sanctioned sports including Baseball, Fastpitch, Slow Pitch, Karate, Basketball, Soccer and more! For more information on USSSA and to register your team visit USSSA.com. Also be sure to visit USSSAToday.com for the latest USSSA News!