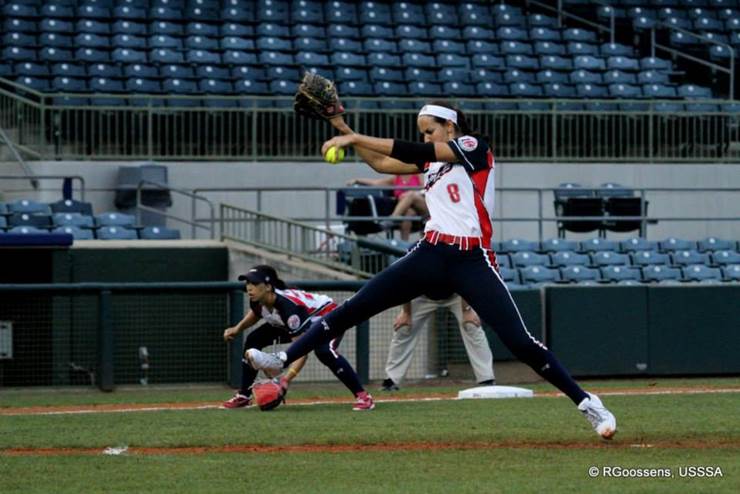 Game 1: Osterman Flirts With No Hitter in 5-0 Win over Racers
Kissimmee, FL- Thursdays double header resumed on Friday morning as the Pride beat the Akron Racers 5-0 in a win that saw Cat Osterman flirt with a no hitter.
Osterman tossed seven innings of shutout ball, holding the Racers to just one hit while walking three and striking out eight. Osterman's no hitter was broken up on a hard hit ball by Taylor Schlopy in the sixth.
The Pride didn't score until the bottom of the fifth, when Natasha Watley led off the inning with a double, and would score immediately after on a double by Caitlin Lowe. Lowe would advance to third on a sacrifice bunt by Kelly Kretschman. Gionna DiSalvatore would double home Lowe to make it 2-0 at the end of the fifth.
Pride scoring would continue into the sixth, after a RBI double by Ashley Charters, Jenn Salling would hit a home run to center to give the Pride the 5-0 lead.
The Akron Racers (11-20) failed to take advantage of Ostermans three walks. Brittany Mack pitched all six inning walked three, struck out one, and allowed five runs.
Game 2: Schlopy Leads Racers Over Pride in 10-5 Win
The USSSA Pride (22-10) held a 5-3 lead going into the fourth inning on Fridau, but the Akron Racers (12-20) roared back to steal a 10-5 victory at Osceola Co Stadium.
While the USSSA Pride led until the fourth inning, the Akron Racers worked their way back and took the lead on a solo home run by Taylor Schlopy.
Schlopy went a perfect 3-3 at the plate for the Akron Racers. She singled in the first and second innings and homered in the fourth inning.
Andrea Duran racked up three RBIs on two hits for the USSSA Pride. She hit a three run homer in the first inning to put the Pride up one and singled in the third inning.
Jordan Taylor had an impressive outing in relief against the Akron Racers' lineup. The Akron Racers managed just two hits off of Taylor, who allowed no earned runs, walked two and struck out four during her 2 2/3 innings of relief work.
Rachele Fico allowed five runs over seven innings recording the victory, her third of the season. She struck out one, walked two and surrendered seven hits inan overall solid pitching performance.
Keilani Ricketts (0-2) took the loss for the USSSA Pride. She allowed six runs in 1 1/3 innings, walked three and struck out two.
About USSSA Florida Pride:
The USSSA Florida Pride is a professional franchise in the National Pro Fastpitch League that is owned and operated by USSSA. The amateur organization of USSSA has multi-sport coverage and encompasses teams and players from the United States and abroad.
About NPF:
National Pro Fastpitch is headquartered in Nashville, TN. The league, created to give elite female fastpitch players the opportunity to pursue a professional career in their chosen sport, has operated since 1997 under the names of Women's Pro Fastpitch (WPF) and Women's Pro Softball League (WPSL). NPF is the Official Development Partner of Major League Baseball in the category of women's fastpitch softball since 2002.
About USSSA:
The United States Specialty Sports Association (USSSA), headquartered in Osceola County, Florida, USSSA is the World's Largest Multi-sport Athletic Organization. Founded in 1968, USSSA has grown to over 3.7 million participants, competing in 13 nationally sanctioned sports including Baseball, Fastpitch, Slow Pitch, Karate, Basketball, Soccer and more! For more information on USSSA and to register your team visit USSSA.com. Also be sure to visit USSSAToday.com for the latest USSSA News!