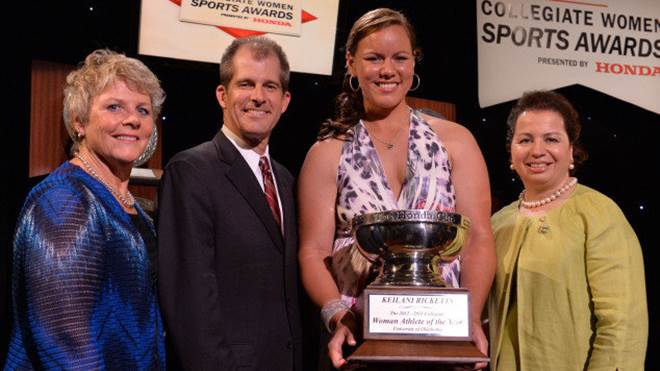 NORMAN, Okla. – Keilani Ricketts capped her remarkable career at the University of Oklahoma on Monday night as she was named the winner of the 2013 Honda Cup, given to the nation's top female collegiate athlete by the Collegiate Women's Sports Awards.
"I would like to thank Honda for sponsoring and for the CWSA to appreciate us as collegiate athletes," Ricketts said. "We really do feel appreciated. I've had a blast so far. Congratulations to all of the recipients because all of them have had amazing seasons. It's awesome to be able to experience this with them.
"My teammates helped me stay determined. Winning the Honda Cup has been great to represent my school and my state. I wouldn't be here without the people of Oklahoma. They have motivated me to be prideful to use softball to represent them well."
The two-time winner of the Honda Sports Award for Softball, Ricketts beat out the other 11 Honda Sports Award winners, including fellow finalists Elena Delle Donne, women's basketball player from Delaware, and Kimberlyn Duncan, track and field athlete from LSU.
Ricketts becomes the first student-athlete in Oklahoma history to win the Honda Cup and is just the third softball player to take home the honor, joining UCLA's Natasha Watley (2003) and Lisa Fernandez (1993).
"Keilani is a great person to represent collegiate women's sports, and softball in particular as it looks to re-enter the Olympic programme," Jean Lenti Ponsetto, CWSA Chairwoman of the Board and
Athletics Director at DePaul University, said. "When we showcase the nation's best of the best in collegiate athletics live on ESPNU, we are delighted to honor an athlete like Keilani. She is a special athlete, and one who is very deserving of the 2013 Honda Cup."
The two-time USA Softball Collegiate Player of the Year, Ricketts helped lead the Oklahoma softball team to the 2013 National Championship, the second in program history. In the title-clinching win, she drove in all four runs in a 4-0 victory over Tennessee, including a three-run home run.
Ricketts was 35-1 this season with a 1.23 earned run average and 350 strikeouts in 238.1 innings pitched. She posted the second most shutouts in the nation this year with 16 and ranked third in wins (35), fifth in hits allowed per seven innings (3.61), sixth in total strikeouts (350) and eighth in both ERA (1.23) and strikeouts per seven innings (10.3).
Additionally, Ricketts hit .379 at the plate with 15 home runs and 60 runs batted in. She slugged .725, got on base at a .534 clip and was a perfect 9-9 on stolen bases.
The CWSA presents the Honda Sports Award annually to top women athletes in 12 NCAA-sanctioned sports. Ricketts was chosen for the Honda Sports Award by a vote of the National Fastpitch Coaches Association.
A member of the 2013 USA Softball Women's National Team, Ricketts will compete next from July 11-14 at the World Cup of Softball in Oklahoma City.
*Keilani Ricketts was the 4th overall selection in the 2013 NPF College Draft and the first selection by the USSSA Pride.
About USSSA Florida Pride:
The USSSA Florida Pride is a professional franchise in the National Pro Fastpitch League that is owned and operated by USSSA. The amateur organization of USSSA has multi-sport coverage and encompasses teams and players from the United States and abroad.
About NPF:
National Pro Fastpitch is headquartered in Nashville, TN. The league, created to give elite female fastpitch players the opportunity to pursue a professional career in their chosen sport, has operated since 1997 under the names of Women's Pro Fastpitch (WPF) and Women's Pro Softball League (WPSL). NPF is the Official Development Partner of Major League Baseball in the category of women's fastpitch softball since 2002.
About USSSA:
The United States Specialty Sports Association (USSSA), headquartered in Osceola County, Florida, USSSA is the World's Largest Multi-sport Athletic Organization. Founded in 1968, USSSA has grown to over 3.7 million participants, competing in 13 nationally sanctioned sports including Baseball, Fastpitch, Slow Pitch, Karate, Basketball, Soccer and more! For more information on USSSA and to register your team visit USSSA.com. Also be sure to visit USSSAToday.com for the latest USSSA News!