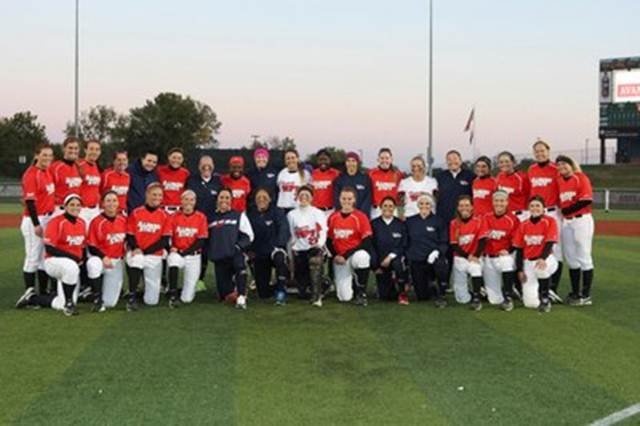 NORMAL, Ill. – The Illinois State softball team concluded its eight-game fall season with a doubleheader against a team of all-stars from the National Pro Fastpitch (NPF) League Sunday evening at the Corn Crib. The Redbirds lost each game in five innings by the eight run rule, 12-2 in game one and 9-1 in game two.
The games were part of the NPF's third-straight "Back to School Tour." A team of representatives from all four NPF teams (Akron Racers, Chicago Bandits, Carolina Diamonds and USSSA Pride) is in the process of making 21 stops across 16 states in a 40-day span. Despite the lopsided results, head coach Melinda Fischer knows her team is better because of the experience gained from playing against some of the world's best players.
"It was a tremendous experience for all of our players to get to go against them," Fischer said. "We wish we could have done some things differently to eliminate some of our mistakes, but it in the long run, it is about what you take away from this. Those professionals made adjustments every at bat, even within every at bat. I think that is the thing that really separates them from what I see in our program right now. It is a tremendous learning experience."
Game One: NPF 12, ISU 2
The NPF team utilized three home runs in to defeat the Redbirds 12-2 in game one. After scoring once in the first and twice in the second, the all-stars broke the game open with a three-run homer from Angeline Quiocho in the third. Kelly Kretschman added on with a grand slam in the fourth, before Ashley Charters hit a solo shot and Charlotte Morgan recorded an RBI single in the fifth.
The Redbirds scored their two runs in the bottom of the fourth inning on a two-run homerun from Sara Bradley. Stephanie Gallant led off the inning with a walk, with Bradley blasting one over the left-center field fence one batter later. Lauren Kellar also recorded three hits in her three at bats, including a double and stolen base.
"Lauren Kellar stepped up like she was ready to play all day," Fischer said. "She had tremendous production in the first game."
Taylor Baxter started and threw 3.1 innings in the circle, allowing six runs on eight hits, while walking four and striking out four. Erin Rodriguez tossed 1.2 innings in relief, also allowing six runs while striking out one.
Game Two: NPF 9, ISU 1
An eight-run second inning for the NPF team proved too much for the Redbirds to overcome. After retiring the first four batters of the game, Regan Romshek allowed seven-straight batters to reach base and three home runs in the frame. GiOnna DiSalvatore and Jamee Juarez hit back-to-back solo homers to start the scoring. Aja Paculba and Tammy Williams registered run-scoring singles before Kretschman blasted a three-run shot to cap the inning's scoring and give NPF an 8-0 lead.
After NPF scored one in the top of the fifth on RBI double from Paculba, the Redbirds were on the verge of being no-hit and shutout. However, Romshek hit a solo home run with two outs and two strikes to give the Redbirds a run and break up Juarez' no-hit bid.
Romshek threw all 5.0 innings, allowing nine runs on nine hits while recording a strikeout. All of the NPF runs came in two innings, as Romshek allowed just five total base runners in the other three.
"Regan was very consistent," Fischer said. "You can't ask any more from a freshman at this point. I thought she did a good job."
The Redbirds will next go on an international trip to Curacao from Nov. 17-24. The team will participate in eight games while conducting softball clinics and community service projects.
GoRedbirds.com: Your online source for Illinois State Athletics, tickets, Weisbecker Scholarship Fund gifts, multimedia, Redbird merchandise, photos and more.
About NPF:
National Pro Fastpitch is headquartered in Nashville, TN. The league, created to give elite female fastpitch players the opportunity to pursue a professional career in their chosen sport, has operated since 1997 under the names of Women's Pro Fastpitch (WPF) and Women's Pro Softball League (WPSL). NPF is the Official Development Partner of Major League Baseball in the category of women's fastpitch softball since 2002.
About USSSA:
The United States Specialty Sports Association (USSSA), headquartered in Osceola County, Florida, USSSA is the World's Largest Multi-sport Athletic Organization. Founded in 1968, USSSA has grown to over 3.7 million participants, competing in 13 nationally sanctioned sports including Baseball, Fastpitch, Slow Pitch, Karate, Basketball, Soccer and more! For more information on USSSA and to register your team visit USSSA.com. Also be sure to visit USSSAToday.com for the latest USSSA News!