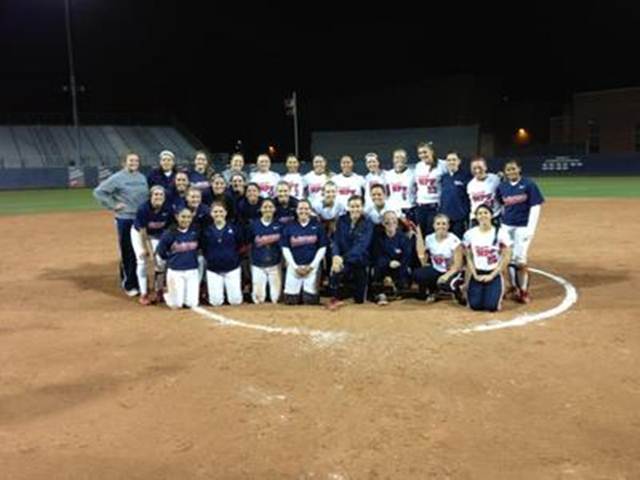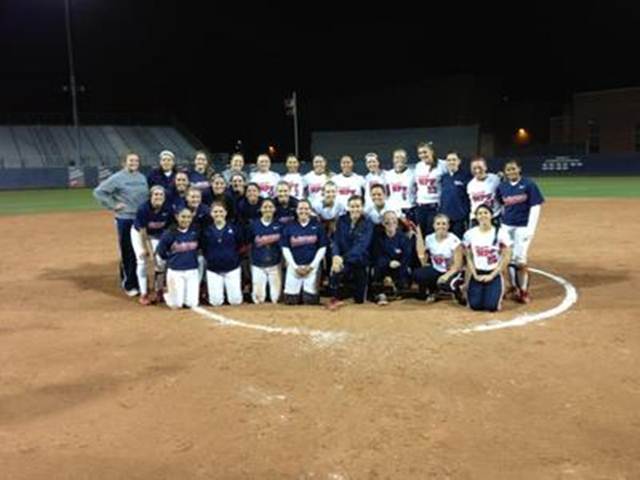 Tucson, AZ- University of Arizona Wildcat Softball allowed six home runs in a 23-1 loss at the hands of the National Pro Fastpitch All-Stars in front of 783 fans at Hillenbrand Stadium.
Shelby Babcock held the NPF All-Stars without a hit for the first two innings, but a nine-run third began a 21-hit, 23-run onslaught. Babcock pitched two inning and faced seven batters in the third. Babcock allowed seven runs on five hits while walking three. She was relieved by Nancy Bowling who pitched three innings and allowed eight runs on nine hits while walking two and striking out one. Estela Piñon allowed eight runs on seven hits in her two innings of work.
NPF knocked six home runs in the contest; Nikia Williams and Angeline Quiocho hit two each. Quiocho and Ashley Charters led the All-Stars with six RBI apiece.
Babcock did not allow a hit until the third inning when she allowed seven hits and seven runs without getting an out. She was relieved by Bowling who entered in the game with no one out and the bases loaded. Bowling allowed three hits and two runs of her own in the nine-run third.
Caitlin Lowe, Charters, Kelly Kretschman, Kelsey Bruder and Kaylyn Castillo drove in runs in the inning as the NPF All-Stars sent 12 batters to the plate in the frame. Charters had two separate RBI hits in the inning.
In the home half of the third, Arizona got a run back when Alex Lavine walked and Chelsea Suitos singled to put runners on the corners for Hallie Wilson. The sophomore hit a comebacker to the circle but first baseman GiOnna DeSalvatore was pulled off the bag allowing Lavine to score from third.
NPF added to its lead in the fourth with a solo home run from Williams and a two-run bomb from Charlotte Morgan to make it 12-1.
In the fifth, Williams homered again, a solo homer, to give the All-Stars a 13-1 advantage.
A two-run blast off the bat of Quiocho chased Bowling in the sixth. Piñon entered and got the next three batters to end the frame.
In the seventh, a pair of infield hits put two on for Andrea Duran who singled up the middle to extend NPF's lead to 16-1. After a walk to load the bases, Quicoho hit a grand slam, her second homer of the game, giving her six RBI. Charters then launched a three-run home run for NPF's 20th hit of the night to make it 23-1 All-Stars.
Arizona wraps up its fall season with its annual Alumni Game on Nov. 9 at 8:30 p.m. MST.
For continued coverage of Arizona Wildcat Softball, visit ArizonaWildcats.com. Be sure to follow Arizona Softball on Twitter (@UA_Softball) and Facebook (ArizonaSoftball).
About USSSA Florida Pride:
The USSSA Florida Pride is a professional franchise in the National Pro Fastpitch League that is owned and operated by USSSA. The amateur organization of USSSA has multi-sport coverage and encompasses teams and players from the United States and abroad.
About NPF:
National Pro Fastpitch is headquartered in Nashville, TN. The league, created to give elite female fastpitch players the opportunity to pursue a professional career in their chosen sport, has operated since 1997 under the names of Women's Pro Fastpitch (WPF) and Women's Pro Softball League (WPSL). NPF is the Official Development Partner of Major League Baseball in the category of women's fastpitch softball since 2002.
About USSSA:
The United States Specialty Sports Association (USSSA), headquartered in Osceola County, Florida, USSSA is the World's Largest Multi-sport Athletic Organization. Founded in 1968, USSSA has grown to over 3.7 million participants, competing in 13 nationally sanctioned sports including Baseball, Fastpitch, Slow Pitch, Karate, Basketball, Soccer and more! For more information on USSSA and to register your team visit USSSA.com. Also be sure to visit USSSAToday.com for the latest USSSA News!