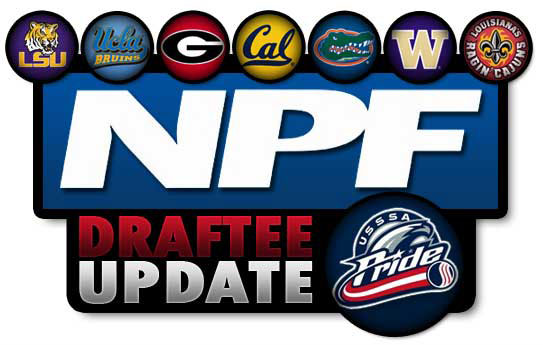 Via calbears.com:
Pac-12 Honors Arioto as Pitcher of the Week (5/14):
"BERKELEY – Senior Valerie Arioto pitched the Bears to a 5-0 win over No. 2 Arizona State for the top-ranked California softball team to win its Pac-12 Championship, making her this week's Pac-12 Pitcher of the Week.
'"It is an awesome accomplishment to be the Pac-12 Pitcher of the Week," Arioto said. "My team's defense was behind me the whole time. It's hard to get past them! My teammates provided me with the run support we needed to win the game and the conference."'
USA Softball Names Arioto Player of the Week (5/15):
"BERKELEY – Hitting a walk-off homer in one game and then throwing a shutout in the next to power California softball to the inaugural Pac-12 Championship certainly earned Valerie Arioto some just desserts as she was named the USA Softball Collegiate Player of the Week for May 7-13.
'"I'm incredibly honored to have been chosen out of all the great players across the country for this very prestigious award!" Arioto said. "This is so much more a team award than it is an individual award for me. We couldn't have won on Friday without the five runs the team scored and the incredible defense that my teammates played behind me."'
Regionals, vs. Iona, Arkansas, and Boston University, May 18-20
Game 1 (5/18): California 8, Iona 0 (W)
Game 2 (5/19): California 2, Arkansas 3 (L)
Game 3 (5/19): California 8, Boston University 0 (W)
Game 4 (5/20): California 10, Arkansas 2 (W)
Game 5 (5/20): California 7, Arkansas 0 (W)
Arioto, 5/18-20:
Batting: AB-6;R-5;H-2;RBI-1;BB-13;SO-0;PO-35;A-0;LOB-0
Pitching: IP-0.1;H-3;R-2;ER-2;BB-0;SO-0;WP-0;BK-0;HBP-0;IBB-0;AB-3;BF-3;FO-0;GO-0;NP-16
Game 2:
"Valerie Arioto (20-3) started, allowing the two earned runs on three hits."
Game 3:
"After four intentional walks on the day – three of which came against Arkansas – BU threw to senior first baseman Valerie Arioto, who went two-for-two with two walks and an RBI."
About USSSA Florida Pride:
The USSSA Florida Pride is a professional franchise in the National Pro Fastpitch League that is owned and operated by USSSA. The amateur organization of USSSA has multi-sport coverage and encompasses teams and players from the United States and abroad.
About NPF:
National Pro Fastpitch is headquartered in Nashville, TN. The league, created to give elite female fastpitch players the opportunity to pursue a professional career in their chosen sport, has operated since 1997 under the names of Women's Pro Fastpitch (WPF) and Women's Pro Softball League (WPSL). NPF is the Official Development Partner of Major League Baseball in the category of women's fastpitch softball since 2002.
About USSSA:
The United States Specialty Sports Association (USSSA), headquartered in Osceola County, Florida, USSSA is the World's Largest Multi-sport Athletic Organization. Founded in 1968, USSSA has grown to over 3.7 million participants, competing in 13 nationally sanctioned sports including Baseball, Fastpitch, Slow Pitch, Karate, Basketball, Soccer and more! For more information on USSSA and to register your team visit USSSA.com. Also be sure to visit USSSAToday.com for the latest USSSA News!