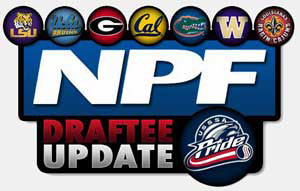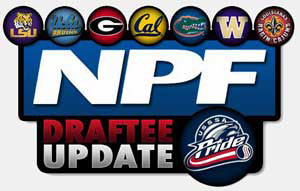 Via calbears.com:
Vs. UCLA, April 27, 28, and 29
Game 1, 4/27: UCLA 0, Cal 3
Game 2, 4/28: UCLA 0, Cal 8
Game 3, 4/29: UCLA 3, Cal 10
Arioto, 2/27-29:
Batting: AB-4;R-4;H-1;RBI-1;BB-6;SO-2;PO-15;A-1;LOB-0
Pitching: W,19-2;IP-4.0;H-4;R-0;ER-0;BB-2;SO-4;WP-0;BK-0;HBP-0;IBB-0;AB-14;BF-16;FO-3;GO-3;NP-64
Game 1:
"After Valerie Arioto singled to left, Jace Williams doubled to the wall in center, which allowed Arioto advanced to third. With a high shot to right, Cordes plated Arioto with her fourth sac fly of the year."
Game 2:
"Valerie Arioto (19-2) pitched four innings of scoreless ball in which she fanned four and gave up four hits.
"…Jamia Reid doubled just fair down the left-field line and Valerie Arioto walked to put runners at first and second with one out for Jace Williams. On the first pitch of the at-bat, Williams doubled to left-center, scoring Reid. With the bases loaded – Arioto at third, Williams at second and Danielle Henderson at first after walking – Cheyenne Cordes grounded to third base, but catcher Alyssa Tiumalu dropped the ball, allowing Arioto to score.
"…After a long foul ball into the left-field stands, Arioto took a shot to the leg. Decker went to third and Arioto to second when Williams grounded out to first."
Game 3:
"Sunday's game was the first double-digit walk performance by the Bears with Frani Echavarria and Valerie Arioto each earning…
"Cal started things off with back-to-back singles. Arioto loaded the bases with a walk, and Jamia Reid put on the delayed steal for the first run. With the bases juiced, Cheyenne Cordes singled to left to plate Decker and Arioto.
"…Arioto walked in the first run of the game, leaving the bases loaded for Jace Williams, who singled to center to plate Jamia Reid and Decker. A wild pitch plated Arioto from third.
"A bases-loaded sacrifice fly from Williams scored Arioto from third."
About USSSA Florida Pride:
The USSSA Florida Pride is a professional franchise in the National Pro Fastpitch League that is owned and operated by USSSA. The amateur organization of USSSA has multi-sport coverage and encompasses teams and players from the United States and abroad.
About NPF:
National Pro Fastpitch is headquartered in Nashville, TN. The league, created to give elite female fastpitch players the opportunity to pursue a professional career in their chosen sport, has operated since 1997 under the names of Women's Pro Fastpitch (WPF) and Women's Pro Softball League (WPSL). NPF is the Official Development Partner of Major League Baseball in the category of women's fastpitch softball since 2002.
About USSSA:
The United States Specialty Sports Association (USSSA), headquartered in Osceola County, Florida, USSSA is the World's Largest Multi-sport Athletic Organization. Founded in 1968, USSSA has grown to over 3.7 million participants, competing in 13 nationally sanctioned sports including Baseball, Fastpitch, Slow Pitch, Karate, Basketball, Soccer and more! For more information on USSSA and to register your team visit USSSA.com. Also be sure to visit USSSAToday.com for the latest USSSA News!