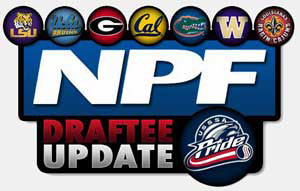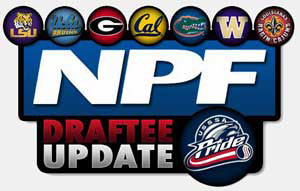 Via calbears.com:
Three Bears Make Player of the Year Top-25 List: Valerie Arioto, Jolene Henderson, Jamia Reid Candidates for Top Honor (4/11)
"BERKELEY – Valerie Arioto, Jolene Henderson and Jamia Reid of the No. 1 California softball team have the utmost honor of being named three of the 25 finalists for the 2012 USA Softball Collegiate Player of the Year, the Amateur Softball Association announced Wednesday. This award, which is considered the most prestigious honor in Division I women's collegiate softball, is designed to recognize outstanding athletic achievement by female collegiate softball players across the country."
Vs. Saint Mary's, April 11
Cal 9, Saint Mary's 0
Arioto, 4/11: Hitting: AB-4;R-1;H-1;RBI-2;BB-0;SO-1;PO-2;A-2;LOB-1
Pitching: W,17-0;IP-4.0;H-3;R-0;ER-0;BB-1;SO-6;WP-0;BK-0;HBP-0;IBB-0;AB-14;BF-15;FO-1;GO-4
"Valerie Arioto also went yard, adding a solo shot to her RBI groundout.
"…Valerie Arioto started and earned the win, giving up just three hits and one walk while striking out six."
Vs. Arizona, April 13,14,and 15 
Game 1, 4/13: Cal 2, Arizona 0
Game 2, 4/14: Cal 3, Arizona 8
Game 3, 4/15: Cal 6, Arizona 0
Arioto, 4/13-15: Hitting: AB-6;R-3;H-2;RBI-2;BB-3;SO-1;PO-18;A-1;LOB-0
Pitching: L,17-1;IP-5.1;H-8;R-4;ER-3;BB-2;SO-6;WP-1;BK-0;HBP-1;IBB-0;AB-23;BF-27;FO-0;GO-10;NP-91
Game 1:
"Valerie Arioto broke through with a walk to lead off the bottom of the sixth. Jace Williams followed that up with a grounder back to Fowler for a single. Fowler went to throw Arioto out at second, but the ball bounded into center field, allowing Arioto to move to third.
"…Arizona catcher Lini Koria could not handle the first pitch thrown to Breana Kostreba, bringing Arioto home." 
Game 2:
"Valerie Arioto (17-1) suffered the loss – her first of the year – after giving up three earned runs on eight hits and two walks while striking out six."
Game 3: 
"Senior Valerie Arioto hit two homers while Frani Echavarria, Jamia Reid and Danielle Henderson all drove in a run apiece"
About USSSA Florida Pride:
The USSSA Florida Pride is a professional franchise in the National Pro Fastpitch League that is owned and operated by USSSA. The amateur organization of USSSA has multi-sport coverage and encompasses teams and players from the United States and abroad.
About NPF:
National Pro Fastpitch is headquartered in Nashville, TN. The league, created to give elite female fastpitch players the opportunity to pursue a professional career in their chosen sport, has operated since 1997 under the names of Women's Pro Fastpitch (WPF) and Women's Pro Softball League (WPSL). NPF is the Official Development Partner of Major League Baseball in the category of women's fastpitch softball since 2002.
About USSSA:
The United States Specialty Sports Association (USSSA), headquartered in Osceola County, Florida, USSSA is the World's Largest Multi-sport Athletic Organization. Founded in 1968, USSSA has grown to over 3.7 million participants, competing in 13 nationally sanctioned sports including Baseball, Fastpitch, Slow Pitch, Karate, Basketball, Soccer and more! For more information on USSSA and to register your team visit USSSA.com. Also be sure to visit USSSAToday.com for the latest USSSA News!