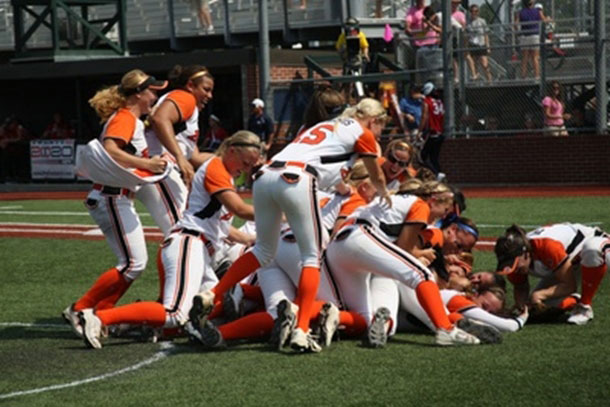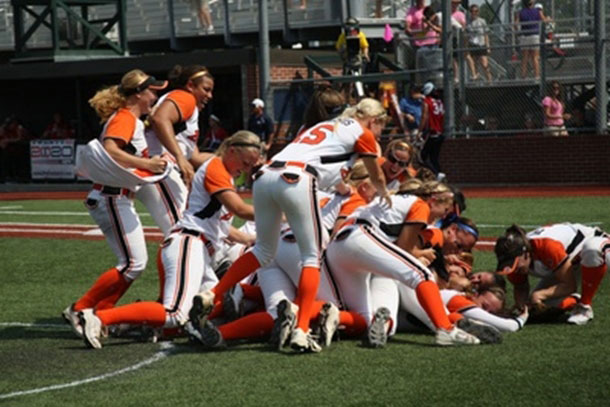 Sulphur, LA – All season long the USSSA Florida Pride had softball fans confident that they would repeat as Cowles Cup Champions.  The Chicago Bandits never got that memo as they struck early and often in a 10-3 rout of the defending and regular season National Pro Fastpitch champions here at the NPF Championship Series at McMurry Park.
Series MVP, Monica Abbott kept the Pride off balance for the second day in a row and avoided a deciding game 3 by ending the Pride's hopes of taking the Cowles Cup back home with them.  The Bandits took advantage of a 5 run 1st inning and scattered 5 additional runs took take the cup to Rosemont in 2 games.  Megan Wiggins came up huge in the Bandits win offensively and defensively.  A national audience on ESPN2 watched Wiggins go deep, hit a triple, and make a huge game changing diving catch in left field.  Meanwhile the Pride used 3 pitchers on the day, started Jordan Taylor pitched only. 1 innings and gave up 5 runs before being pulled for Sarah Pauly who was replaced later in the game by Danielle Lawrie.
The Bandits came to Sulphur as the league's 3rd place team and go home Champions as they dismantled their rivals in 100+ degree temperatures.  The Pride who committed 4 errors on the day never found a rhythm and found themselves fighting for their softball future all game long.  Abbott and company made things tough for the Pride as they kept plugging away and never letting up.  "You can never slack up on them, you have to go into each inning like the score is 0-0", said Wiggins.
2011 marked the second year that the 2 teams met for the Cowles Cup in Sulphur.  If you missed it, you can catch the game at 9pm CST on ESPN2 on Monday, August 22.
About USSSA Florida Pride:
The USSSA Florida Pride is a professional franchise in the National Pro Fastpitch League that is owned and operated by USSSA. The amateur organization of USSSA has multi-sport coverage and encompasses teams and players from the United States and abroad.
About NPF:
National Pro Fastpitch is headquartered in Nashville, TN. The league, created to give elite female fastpitch players the opportunity to pursue a professional career in their chosen sport, has operated since 1997 under the names of Women's Pro Fastpitch (WPF) and Women's Pro Softball League (WPSL). NPF is the Official Development Partner of Major League Baseball in the category of women's fastpitch softball since 2002.
About USSSA:
The United States Specialty Sports Association (USSSA), headquartered in Osceola County, Florida, USSSA is the World's Largest Multi-sport Athletic Organization. Founded in 1968, USSSA has grown to over 3.7 million participants, competing in 13 nationally sanctioned sports including Baseball, Fastpitch, Slow Pitch, Karate, Basketball, Soccer and more! For more information on USSSA and to register your team visit USSSA.com. Also be sure to visit USSSAToday.com for the latest USSSA News!