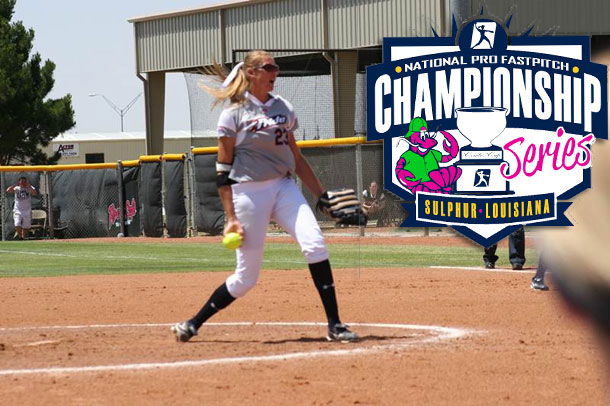 Pride 7
Diamonds 0
Sulphur, LA – They dominated all season long, so why would tonight be any different.  The USSSA Florida Pride continued their domination here Friday night at the National Pro Fastpitch Championship Series at McMurry Park in Game 2 of their best of 3 series with the NPF Diamonds with a 7-0 win to advance to play for the NPF Championship and the chance to keep the Cowles Cup in Kissimmee.  After pulling out a last inning win in game 1 of the series earlier in the day the Pride left no doubt in softball fans minds as they earned the right to play for softball glory this weekend.
Sarah Pauly went the distance for the Pride giving up only 1 hit and striking out 10.  "Pauly threw a great game, hats off to her, she kept us off balance all night", said Diamonds left fielder Jami Lobpries.  Pauly had a no hitter going into the bottom of the 6th before A a Paculba's lead off single.  "Our pitching is deep, we have two all NPF pitchers in Danielle Lawrie and Cat Osterman, but Sarah is throwing as good as anyone right now", added Pride head coach Tim Walton.
The Pride scored 2 in the 3rd inning before opening the gap in the 4th on a Natasha Watley 2 RBI single and added 2 insurance runs in the 5th to seal the deal for the NPF regular season champions.  The Pride opens the championship round tomorrow night at 7pm in an attempt to repeat as champions.  With the other semi-final between the Chicago Bandits and Akron Racers still to come tonight with game 2 of their series, Walton didn't seem to worry about which team his Pride would face, "it doesn't matter who we play tomorrow night, we will prepare the same way we have all season" said the Pride skipper.  The Pride has been playing with the bullseye on their back all season long, a challenge the Pride has embraced.  "Pressure is a privelege, everyone expects us to win, and I wouldn't want it any other way" said Pride left fielder Jessica Mendoza.
The Championship Round begins at McMurry Park at 7pm Saturday night and continues on Sunday with a 1pm start for game 2.  Game 2 will be televised live on ESPN2.  Get your NPF Championship Series tickets at www.profastpitch.com.
About USSSA Florida Pride:
The USSSA Florida Pride is a professional franchise in the National Pro Fastpitch League that is owned and operated by USSSA. The amateur organization of USSSA has multi-sport coverage and encompasses teams and players from the United States and abroad.
About NPF:
National Pro Fastpitch is headquartered in Nashville, TN. The league, created to give elite female fastpitch players the opportunity to pursue a professional career in their chosen sport, has operated since 1997 under the names of Women's Pro Fastpitch (WPF) and Women's Pro Softball League (WPSL). NPF is the Official Development Partner of Major League Baseball in the category of women's fastpitch softball since 2002.
About USSSA:
The United States Specialty Sports Association (USSSA), headquartered in Osceola County, Florida, USSSA is the World's Largest Multi-sport Athletic Organization. Founded in 1968, USSSA has grown to over 3.7 million participants, competing in 13 nationally sanctioned sports including Baseball, Fastpitch, Slow Pitch, Karate, Basketball, Soccer and more! For more information on USSSA and to register your team visit USSSA.com. Also be sure to visit USSSAToday.com for the latest USSSA News!