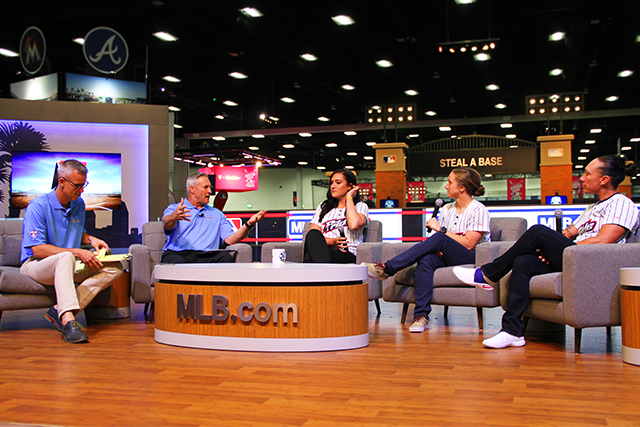 Article by Mike McCormick | MLB.com
SAN DIEGO — In the spirit of baseball barnstorming tours 100 years ago, some talented women blazed through San Diego during MLB's All-Star Week. Two teams from the National Pro Fastpitch (NPF) league — the USSSA Pride, of Orlando, and the Dallas Charge — played games that counted toward their regular-season records at a neutral site at the University of San Diego.
"I think being here during the All-Star Game was huge," said Cat Osterman, who helped pitch Team USA to a gold medal in the 2004 Olympics and a silver in 2008. "It allowed baseball fans to see that there is pro softball. It's a natural — how many dads are baseball fans and they have a daughter?"
NPF Commissioner Cheri Kempf also emphasized the dual goal of bringing games to San Diego during All-Star Week, thanks in large part to USSSA CEO Don DeDonatis. "Our players loved it; all of them," Kempf said. "It's their first time at an All-Star Game. They are the best of the best, too, and it was a privilege to be there.
"What I also think is special is that these women are extraordinarily talented. They were born with a gift to do this. I think it's important that we all fight for that platform to survive so that they are able to make a living and reach their potential as professionals."
Pitcher/slugger Lauren Haeger, who led the University of Florida to national championships in 2014 and '15 before turning pro with the Charge last year, added that the best part of the week was young girls recognizing her and other players. "It was a really cool opportunity for us," Haeger said. "We helped little girls realize that this is a big deal, that we're professionals, and that it's a goal they can have when they get older."
After returning from a softball field dedication in Escondido that was attended by MLB Commissioner Rob Manfred, Charge outfielder Brianna Cherry also said that reaching the youngsters was a huge highlight of the trip. "I enjoyed the FanFest festivities, seeing different kids of different ages coming together and having fun."
Pride third baseman Andrea Duran is sidelined with a foot injury, but she didn't let that stop her from enjoying the All-Star action. "We went to FanFest and did a bunch of events," Duran said. "We took pictures with the fans, did some Q&As, some clinic instructing, and cheered on the kids. It was really awesome because it was centered around kids. I wish I had kids to bring to it."
Three-time Olympic catcher Stacey Nuveman-Deniz lives in San Diego and couldn't resist joining some of her former teammates for a Pride-Charge game taking place so close to home. "Having games here was a perfect opportunity to take advantage of the All-Star Game being in town, and the excitement of baseball fans," said Nuveman-Deniz, who encourages girls to "Dream Big" on her website. "It was great to piggy-back NPF games on top of that. A lot of people don't even know there's a pro softball league."
Haeger grew up in Arizona as a Diamondbacks fan and recalls the 2001 World Series and Luis Gonzalez's bloop single as one of her great sports memories. But when she recognized she probably wasn't going to grow up to be a baseball player, she tried lots of sports, and softball is what stuck.
In addition to hoping that NPF gained some new fans, the message she would most like to deliver to young girls is what softball has meant to her.
"As a woman, this game has taught me so much about myself," Haeger said. "It has given me a place to be outgoing, comfortable and confident in my own skin. It has given me a place to be successful around other strong women.
"I'm confident because I play softball, and it has transferred into the person I am today."
Mike McCormick is editorial director for MLB publications and MLB.com This story was not subject to the approval of Major League Baseball or its clubs.