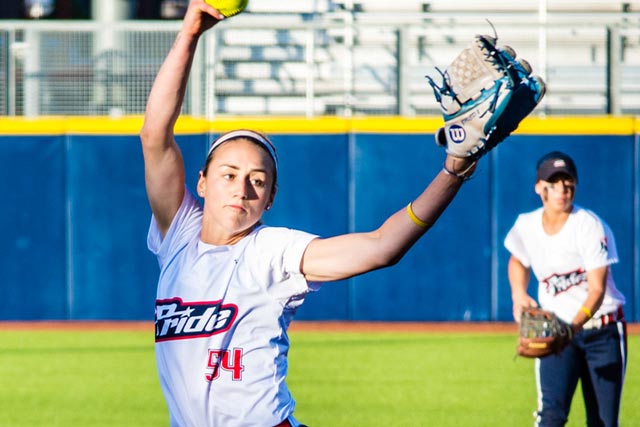 Kissimmee, FL—June 29, 2016—The Chicago Bandits put up a fight tonight but were unable to overcome the tough USSSA Pride lineup. The Pride defeated the Bandits 4-3 for their eighth consecutive win.
Starting pitcher Jolene Henderson looked good out of the gate, not allowing a hit until the fourth inning. She stayed in the game until she allowed a few timely hits in the sixth inning. With the Bandits threatening, the Pride brought in Jordan Taylor as a relief pitcher. The Bandits scored three runs following the substitution but came up just short of the Pride's four-run lead.
The Pride made the third inning exciting. Starting with a leadoff double from Lauren Chamberlain, the Pride had a five-hit inning (their only five hits of the game) to produce their four runs. Unusually hitting no home runs, the Pride scored all of their runs off of productive, modest base hits. They included a hard ground ball up the middle from Hallie Wilson and an easy bloop single into right field from Megan Wiggins, both RBIs.
After the Bandits put in Morgan Foley to pitch, the Pride would not collect another hit or run for the remainder of the game.
Taylor, returning to her role of relief pitcher, came in to replace Henderson in the sixth. Three runs scored after Taylor came in, but she picked up the save for the Pride, defending the lead.
The Pride have a few off days before returning to action next week. They'll travel to Chicago to play the Bandits once again on July 5 and 6.
Final Score
Chicago Bandits: 3
USSSA Pride: 4
Follow the Pride!
About USSSA Florida Pride: The USSSA Florida Pride is a professional franchise in the National Pro Fastpitch League that is owned and operated by USSSA. The amateur organization of USSSA has multi-sport coverage and encompasses teams and players from the United States and abroad.
About USSSA: The United States Specialty Sports Association (USSSA), headquartered in Osceola County, Florida, USSSA is the World's Largest Multi-sport Athletic Organization. Founded in 1968, USSSA has grown to over 3.7 million participants, competing in 13 nationally sanctioned sports including Baseball, Fastpitch, Slow Pitch, Karate, Basketball, Soccer and more! For more information on USSSA and to register your team visit USSSA.com. Also be sure to visit USSSAToday.com for the latest USSSA.
About National Pro Fastpitch (NPF): National Pro Fastpitch (NPF), an Official Development Partner of Major League Baseball since 2002, provides elite female athletes with an opportunity to pursue a professional career in diamond sports beyond their collegiate success. The 2016 NPF season will be televised on CBS Sports Network. Coverage includes the NPF College Draft presented by Bownet on Thur., April 14, followed by 23 regular-season games, a Championship Series Preview Special and the 2016 NPF Championship Series. The NPF recently announced that the Scrap Yard Dawgs, located in The Woodlands, Texas, will join the Akron Racers, Chicago Bandits, Dallas Charge, Pennsylvania Rebellion and USSSA Florida Pride for the 2016 season. National Pro Fastpitch players hail from the U.S., Australia, Canada, Japan, the Netherlands and New Zealand, representing the most accomplished and talented athletes in the sport of women's softball