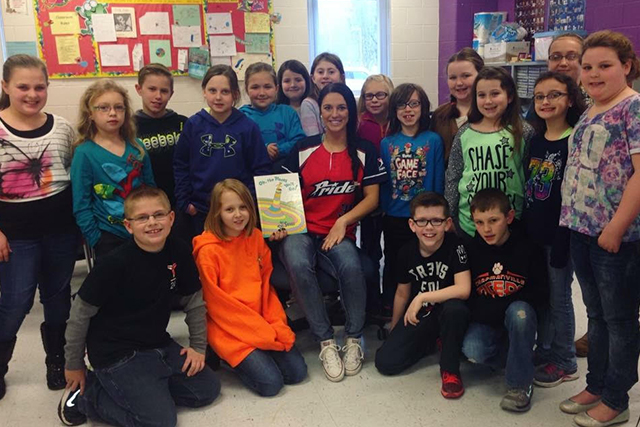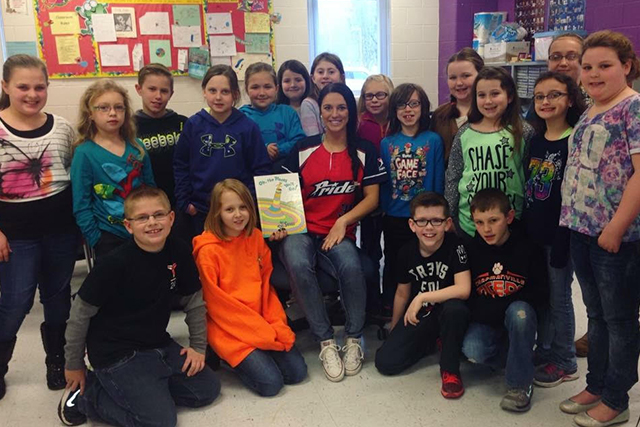 Kissimmee, FL-March 21, 2016-Every year in the beginning of March, schools all across the country participate in National Reading Month in honor of beloved author Dr. Suess.
Our very own Andi Williamson celebrated National Reading Month at her former primary school in her hometown of Harts, WV earlier this month. She also paid a visit to Justice Grade School in Logan, WV located about 30 minutes away from Harts Primary.
During her visit Andi read to the children a Dr. Suess classic "All the Places You Will Go" and spoke about the opportunities she's been given thanks to the sport of softball but never forgetting that it goes hand in hand with hard work and dedication.
"If you have a dream, never give up on it no matter what because you will face failure and you will have setbacks but when that happens remember why you started and all the progress you've already made to get closer to making your dream a reality."
Andi took the chance to re-visit her whole grade school in hopes of giving back to her hometown and the surrounding communities while also giving back the professional fast pitch community.
"I hope to not only make a difference in these children's lives but to also talk about USSSA and the NPF to make people aware of our sport."
Beyond these events, Andi has a few more lined up where she will take the chance to reach out to young kids at different middle and high schools in hopes of inspiring them to keep working hard and keep their dreams alive. She hopes to show these kids that anything is possible if they set their mind to it.

As far as her preparation for the upcoming season, Andi has been coaching her little sister's basketball and softball team and can't wait to get back on the field. In the mean time, she supports her siblings in their sporting events until they can do the same for her in the summer.
Follow your USSSA Pride on Facebook, Twitter and Instagram!
About USSSA Florida Pride: The USSSA Florida Pride is a professional franchise in the National Pro Fastpitch League that is owned and operated by USSSA. The amateur organization of USSSA has multi-sport coverage and encompasses teams and players from the United States and abroad.
About USSSA: USSSA is headquartered in Osceola County, Florida. USSSA is the World's Largest Multi-sport Athletic Organization. Founded in 1968, USSSA has grown to over 3.7 million participants, competing in 13 nationally sanctioned sports including Baseball, Fastpitch, Slow Pitch, Karate, Basketball, Soccer and more! For more information on USSSA and to register your team visit USSSA.com. Also be sure to visit USSSAToday.com for the latest USSSA.
About National Pro Fastpitch: National Pro Fastpitch is headquartered in Nashville, Tennessee. The league, created to give elite female fastpitch players the opportunity to pursue a professional career in their chosen sport, has operated since 1997 under the names of Women's Pro Fastpitch (WPF) and Women's Pro Softball League (WPSL). NPF is the Official Development Partner of Major League Baseball in the category of women's fastpitch softball since 2002.