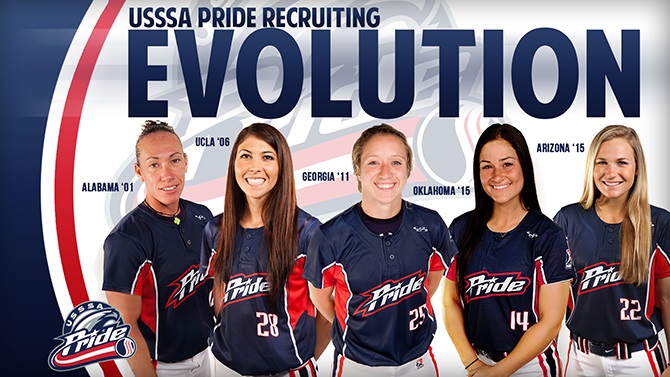 By: Jami Lobpries
Recruiting. Perhaps, the most used word in elite fastpitch by everyone involved—coaches, athletes, parents, events. Recruiting has changed drastically over the last several years to the point where unofficial visits are the norm and official visits have become the final paid vacation to a school you've been committed to for several year [read here for the difference of official and unofficial visits]. The words "verbally committed" and "showcase tournaments" are commonplace in elite fastpitch today but rewind six, seven years ago and those words were rarely used. Today, few prospective student-athletes take their NCAA-allotted five official visits and to be an uncommitted junior brings the fear of never playing in college.
Often, there are articles and stories published providing the facts or do's and don'ts of recruiting. I thought a fun way to show how recruiting has changed throughout the years is to share the recruiting stories of our USSSA Pride players who range from Alabama great Kelly Kretschman to recent Oklahoma grads Lauren Chamberlain and Shelby Pendley. The tipping point of early recruiting can be witnessed through the stories of our more recent college graduates.
What year did unofficial visits and showcase tournaments start? When did players have to start verbally committing years before they stepped foot on campus? How old were these players when they made the biggest decision of their amateur fastpitch careers? You'll have a good idea after hearing these firsthand stories.
We'll take you one day at a time starting with Kelly Kretschman and Natasha Watley's journeys in the late 1990s and ending with Lauren Chamberlain's journey just a few years ago.