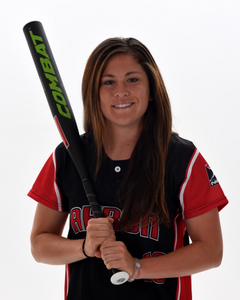 Kissimmee, FL– February 11, 2016- The USSSA Florida Pride have acquired catcher Jessica Garcia following a trade with Akron. In exchange for Garcia, the Racers picked up the Pride's first selection in the fifth round of the 2017 draft.
Garcia, who spent the last four seasons in an Akron jersey behind the plate will wear a USSSA jersey in her fifth professional season.
"I'm excited to be a part of the USSSA organization and am thankful for the opportunity given," said Garcia about joining the USSSA organization. 
Garcia joined Akron in July of the 2012 season as an undrafted free agent. She made her debut during an exhibition game against the Connecticut Brakettes. To date, 2014 has been her greatest season professionally. Garcia averaged a .274 batting average and drove in 23 RBI while blasting 5 home runs. That same year, during the NPF Championship Series Garcia hit .267 with two home runs driving in five of the Racers seven runs over five games. In 2015 Garcia averaged a .158 batting average with one home run and 5 RBI.
Garcia spent her college career at the University of New Mexico from 2009-2012. At UNM, she broke the single season records for hits (81), RBI (69), slugging percentage (.917) and total bases (166). She also finished in the top ten among all D1 softball players in five categories: HR, HR per game, RBI per game, slugging percentage and batting average. She ranked third in home runs and home runs per game (24 & .46), sixth in slugging percentage (9.17), fourth in runs-batted-in per game (1.33) and seventh in batting average (.448).
As far as the upcoming season, Garcia is looking forward to playing with some of the best in the game, she also hopes to put forth the continuous effort to help the sport of fast pitch grow. Her ultimate goal for the 2016 season is to undoubtedly bring the Cowls Cup back to Kissimmee.
About USSSA Florida Pride: The USSSA Florida Pride is a professional franchise in the National Pro Fastpitch League that is owned and operated by USSSA. The amateur organization of USSSA has multi-sport coverage and encompasses teams and players from the United States and abroad.
About USSSA: USSSA is headquartered in Osceola County, Florida. USSSA is the World's Largest Multi-sport Athletic Organization. Founded in 1968, USSSA has grown to over 3.7 million participants, competing in 13 nationally sanctioned sports including Baseball, Fastpitch, Slow Pitch, Karate, Basketball, Soccer and more! For more information on USSSA and to register your team visit USSSA.com. Also be sure to visit USSSAToday.com for the latest USSSA.
About National Pro Fastpitch (NPF)
National Pro Fastpitch (NPF) is headquartered in Nashville, Tenn.  The league, created to give elite female fastpitch players the opportunity to pursue a professional career in their chosen sport, has operated since 1997 under the names of Women's Pro Fastpitch (WPF) and Women's Pro Softball League (WPSL).  NPF is the Official Development Partner of Major League Baseball in the category of women's fastpitch softball and has been since 2002.
Sources: ProFastpitch EMSpeedTraining