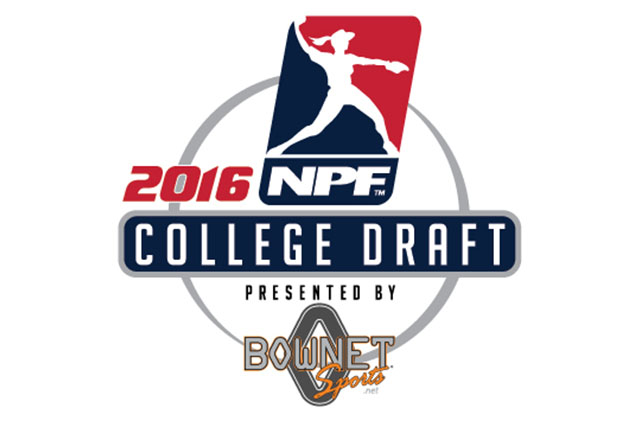 NASHVILLE (Jan. 25, 2016) – National Pro Fastpitch (NPF), the premier women's pro softball league, today announced that the 2016 NPF College Draft Presented by Bownet will take place on Thursday, April 14, 2016 at 7:00 pm CT at the CMA Theater in Nashville, located within the Country Music Hall of Fame and Museum.
The NPF College Draft has become a marquee event for the league, showcasing the current and future stars of an increasingly popular professional sport that is rapidly gaining fans across the country.  The 90-minute televised draft will feature NPF team representatives selecting 33 college seniors to join the ranks of the Akron Racers, Chicago Bandits, Dallas Charge, Pennsylvania Rebellion (Washington, Pa./Pittsburgh), Scrap Yard Dawgs (The Woodlands, Tex./Houston) and USSSA Florida Pride (Kissimmee/Orlando). Only college seniors are eligible for the draft.
"The NPF draft is our first big event each year and it's a terrific lead-in to our season," said NPF Commissioner Cheri Kempf, who also serves as the lead studio analyst of NCAA softball coverage for ESPN. "We're thrilled to be in the CMA Theater for the second year in a row and look forward to introducing some of the most exciting athletes in diamond sports to a national audience."
With TV coverage, broadcast viewership and game attendance on the rise, the NPF is poised to have a breakout year in 2016. The league's partnership with CBS Sports Network grew to a league-best 59 airings in 2015, with more expected this year. Game attendance was up more than 26 percent, highlighted by a single-game record of 12,175 set by the USSSA Pride at ESPN's Wide World of Sports Complex in Orlando.
The expanding inventory of NPF assets, including its six franchises, 150 regular season games, CBS Sports Network broadcast schedule, NPF College Draft, NPF Back-to-School Tour and NPF Championship Series, is broadening national awareness for the league while presenting marketing opportunities for brands looking to connect with family audiences, especially moms and young females. The NPF also plans a major announcement soon detailing a partnership to live stream every game and league event.
As the NPF grows, Kempf emphasizes that the stars of the league – the best fastpitch softball players in the world – who are revered by fans and active on social media, each serve as marketing assets for NPF sponsors. "Our players have a remarkable ability to relate to fans and attract a passionate following, which is reflected in their social media numbers," the commissioner said. "Their willingness to help promote our brand partners is a powerful tool for any sponsor to leverage."
The 2016 NPF College Draft Presented by Bownet, getting underway in Nashville at 7pm CT/8pm ET on April 14, will introduce fans to the nation's most coveted pro prospects, many of whom gained national visibility playing in the Women's College World Series, seen by millions on ESPN. Some of the top newcomers to watch include Sierra Lawrence and Sierra Romero (both from Michigan), Kelsey Stewart (Florida), Lexi Elkins (University of Louisiana), Alex Hugo (Georgia) and Haley McCleney (Alabama).  Among the top pitchers to be considered in this year's draft are Cheridan Hawkins (Oregon), Kelsey Nunley (Kentucky), Kelsey Stevens (Oklahoma) and Shelby Turnier (Central Florida).  The Pennsylvania Rebellion currently holds the No. 1 pick.
The broadcast will also familiarize fans with some of the current stars of the NPF who are expected to attend the draft, including Lauren Chamberlain of the USSSA Pride (2015 No. 1 pick from Oklahoma), Dallas Escobedo of the Pennsylvania Rebellion (2014 No. 1 pick from Arizona State), Lauren Haeger of the Dallas Charge (2015 WCWS Most Outstanding Player and NCAA National Player of the Year from Florida) and Lacey Waldrop of the Chicago Bandits (2014 National Player of the Year from Florida State).
Details related to the television broadcast of the draft on CBS Sports Network are expected to be announced soon.  Presenting sponsor of the NPF College Draft is Bownet, maker of the world's best portable sports goals, nets, bags, specialty equipment and training systems. The 2016 draft marks the fourth consecutive year that Bownet has been the event's lead sponsor.
About USSSA Florida Pride: The USSSA Florida Pride is a professional franchise in the National Pro Fastpitch League that is owned and operated by USSSA. The amateur organization of USSSA has multi-sport coverage and encompasses teams and players from the United States and abroad.
About USSSA: USSSA is headquartered in Osceola County, Florida. USSSA is the World's Largest Multi-sport Athletic Organization. Founded in 1968, USSSA has grown to over 3.7 million participants, competing in 13 nationally sanctioned sports including Baseball, Fastpitch, Slow Pitch, Karate, Basketball, Soccer and more! For more information on USSSA and to register your team visit USSSA.com. Also be sure to visit USSSAToday.com for the latest USSSA.
About National Pro Fastpitch (NPF)
National Pro Fastpitch (NPF) is headquartered in Nashville, Tenn.  The league, created to give elite female fastpitch players the opportunity to pursue a professional career in their chosen sport, has operated since 1997 under the names of Women's Pro Fastpitch (WPF) and Women's Pro Softball League (WPSL).  NPF is the Official Development Partner of Major League Baseball in the category of women's fastpitch softball and has been since 2002.