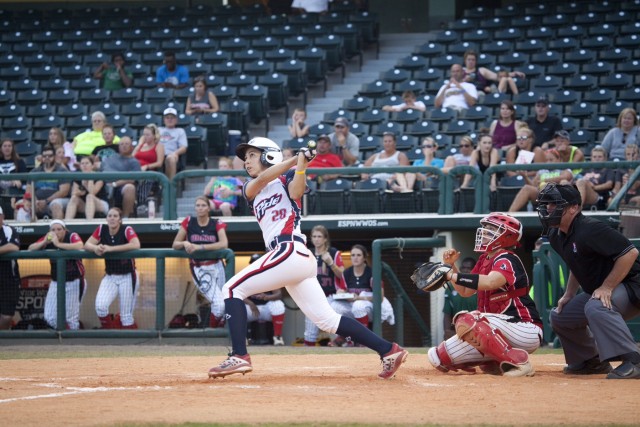 Kissimmee, FL– July 23-The USSSA Pride (26-10) fell behind early but responded with timely hitting to down the Akron Racers (16-17) 2-1 Thursday evening at Champion Stadium.
The Racers jumped out to a 1-0 lead in their first at-bat when Shellie Robinson singled home Taylor Schlopy, who reached on a fielder's choice.
USSSA loaded the bases in the third with three free passes issued to Lauren Chamberlain, Kelly Kretschman, and Madison Shipman and took the 2-1 lead on Andrea Duran's two –run single to left field.
Pitcher were in control from the fourth inning on as Cat Osterman retired nine of the last 11 batters only to be bettered by Lisa Norris who retired ten of the last 11 batters, ending the game at 2-1 Pride.
Cat Osterman (W11, 2) racked up a season-best 14 strikeouts en route to picking up her NPF-leading 11th victory of the season. Osterman scattered five hits over seven innings squandering just the one run in the first inning.
Despite tossing a two-hit complete game, Lisa Norris (L, 4-5) picks up the loss after allowing two runs, both as a result of walks.
About USSSA Florida Pride: The USSSA Florida Pride is a professional franchise in the National Pro Fastpitch League that is owned and operated by USSSA. The amateur organization of USSSA has multi-sport coverage and encompasses teams and players from the United States and abroad.
About the NPF: National Pro Fastpitch is headquartered in Nashville, TN. The league, created to give elite female fastpitch players the opportunity to pursue a professional career in their chosen sport, has operated since 1997 under the names of Women's Pro Fastpitch (WPF) and Women's Pro Softball League (WPSL). NPF is the Official Development Partner of Major League Baseball in the category of women's fastpitch softball since 2002.
About USSSA: USSSA is headquartered in Osceola County, Florida. USSSA is the World's Largest Multi-sport Athletic Organization. Founded in 1968, USSSA has grown to over 3.7 million participants, competing in 13 nationally sanctioned sports including Baseball, Fastpitch, Slow Pitch, Karate, Basketball, Soccer and more! For more information on USSSA and to register your team visit USSSA.com. Also be sure to visit USSSAToday.com for the latest USSSA.