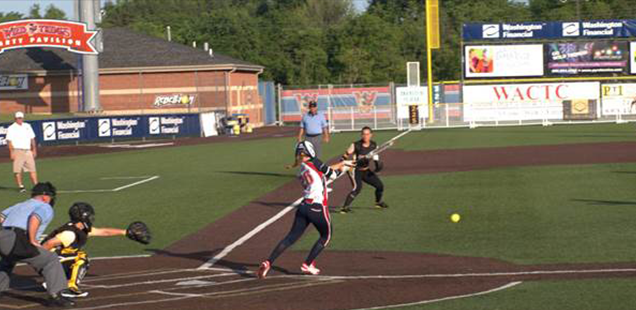 Washington, PA-July 7, 2014-USSSA Pride pinch-hitter Amanda Kamekona hit a pinch-hit grand slam in the sixth inning and the visitors tallied 13 hits en route to their 11-1 win over the Pennsylvania Rebellion, presented by The Coury Financial Group, Sunday at CONSOL Energy Park.
Pride pitcher Danielle Lawrie walked away with her first win in the circle for the Pride while Rebellion hurler Anna Miller was tagged with the loss.
USSSA's shortstop Madison Shipman continued her work at the plate as she notched a two-out RBI single to put the Pride up 1-0 in the first. However, catcher Mandy Oglegot a put out as she connected with shortstop Bianca Mejia to catch Shipman stealing second, preventing further damage.  Ogle added another put out to her total in the fifth inning.
In the home half of the first, a pair of singles and a walk loaded the bases for Rebellion left fielder Angeline Quiocho as she delivered an RBI single, her fourth of the year, to knot the game at one.
The Pride added 10 more runs to scoreboard courtesy of eleven hits and one error en route to their second win of the series. Andrea Duran and Natasha Wately led the charge for the Pride at the plate going 2-3 and 2-4, respectively.
For the official box score visit: https://gc.com/game-5302884d6f375d50323e163c/stats
The Rebellion look for their first win of the series as they take on the Pride tomorrow at 7:05 p.m. For tickets, call (724) 250-9555, visit the box office, or order online atwww.rebellionprosoftball.com.
Monday's game will also be the first to be broadcast on the CBS Sports Network.  For Comcast subscribers, the games can be seen on Channel 274, 288 or 844 (HD). The programming can also be found on channels 274, 288, 221 and 854, 221 (HD) on DirectTv. Additionally, on DirectTV, 158 (HD) on the DISH Network and channels 94 and 594 (HD) on Verizon Fios.
About USSSA Florida Pride:
The USSSA Florida Pride is a professional franchise in the National Pro Fastpitch League that is owned and operated by USSSA. The amateur organization of USSSA has multi-sport coverage and encompasses teams and players from the United States and abroad.
About NPF:
National Pro Fastpitch is headquartered in Nashville, TN. The league, created to give elite female fastpitch players the opportunity to pursue a professional career in their chosen sport, has operated since 1997 under the names of Women's Pro Fastpitch (WPF) and Women's Pro Softball League (WPSL). NPF is the Official Development Partner of Major League Baseball in the category of women's fastpitch softball since 2002.
About USSSA:
The United States Specialty Sports Association (USSSA), headquartered in Osceola County, Florida, USSSA is the World's Largest Multi-sport Athletic Organization. Founded in 1968, USSSA has grown to over 3.7 million participants, competing in 13 nationally sanctioned sports including Baseball, Fastpitch, Slow Pitch, Karate, Basketball, Soccer and more! For more information on USSSA and to register your team visit USSSA.com. Also be sure to visit USSSAToday.com for the latest USSSA