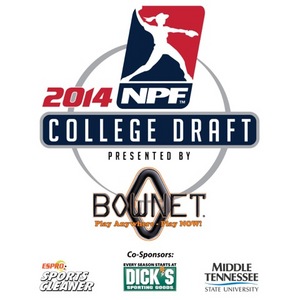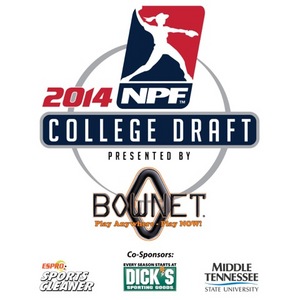 Nashville, TN – March 30, 2014 – The 2014 National Pro Fastpitch College Draft will take place on March 31 in Nashville, TN at 8:00 pm EST. For the second year in a row, the NPF College Draft will be held at the Ford Theatre located inside the Country Music Hall of Fame and Museum and will be streamed live at www.profastpitch.com.  Legendary superstar Cat Osterman of the USSSA Pride as well as pro athletes Megan Willis (USSSA Pride) and Kelley Montalvo (Akron Racers) will be on hand to mingle with fans and watch the Draft unfold in person. The event is currently sold out.
"Spring is an anticipation time of year for the NPF and that all starts with draft night, " commented NPF Commissioner, Cheri Kempf. "The NPF Draft has become an event that college players and their respective coaches and teams look forward to, along with our own NPF teams and fans."
The NPF College Draft in 2014 is again presented by BOWNET. "BOWNET is a company that understands the importance of softball at the professional level and is committed to helping spread the excitement of NPF," said Commissioner Kempf. "We are proud of our continued relationship with BOWNET and for their commitment to the NPF College Draft." The 2014 NPF College Draft is also co-sponsored by Espro Sports Cleaner and Dick's Sporting Goods and produced by the Electronic Media Communication Department of Middle Tennessee State University.
The NPF College Draft by BOWNET will feature 5 rounds of 4 selections for a total of 20 overall draftees in the 2014 rookie class. Drafting an athlete gives an NPF affiliate team the rights to that athlete for two full seasons. Since 2010, the #1 draft pick has come out of the Southeastern Conference. Last year's first choice overall went to the Akron Racers who selected Rachele Fico. Fico was the second consecutive number 1 selection for LSU with Brittany Mack as the number 1 pick for the USSSA Pride in 2012.
The newest team to the NPF, the Pennsylvania Rebellion, will make the first overall selection in 2014. With their entrance into the league, the Rebellion inherit the roster and draft position of the NY/NJ Comets, a team that was unable to secure a consistent venue for the 2014 season. The continuing order will be based on team finishes from the 2013 regular season competition. Exceptions and changes in the order can occur with trade agreements.
The first, third, and fifth rounds will retain the order of last year's regular season finish from last to first, Pennsylvania Rebellion, Akron Racers, USSSA Pride, and Chicago Bandits. The second and fourth rounds will reverse the draft order, making the selections go from Chicago to Pennsylvania in order.
Broadcast of the 2014 NPF College Draft will be live on www.profastpitch.com. Fans will also be able to follow along with the event through league and teams Facebook and Twitter sites. The 2014 Draft order currently is positioned as follows:
1. Pennsylvania Rebellion
2. USSSA Pride (April 2013 Trade – Akron Racers)
3. Akron Racers (March 2014 Trade – USSSA Pride)
4. Chicago Bandits
5. Chicago Bandits
6. USSSA Pride
7. Akron Racers
8. Pennsylvania Rebellion
9.  Pennsylvania Rebellion
10. Akron Racers
11. USSSA Pride
12. Chicago Bandits
13. Chicago Bandits
14. Akron Racers (February 2014 – Trade with USSSA Pride)
15. Akron Racers
16. Pennsylvania Rebellion
17. Pennsylvania Rebellion
18. Akron Racers
19. Pennsylvania Rebellion (February 2014 – Trade with USSSA Pride)
20. Chicago Bandits
About USSSA Florida Pride:
The USSSA Florida Pride is a professional franchise in the National Pro Fastpitch League that is owned and operated by USSSA. The amateur organization of USSSA has multi-sport coverage and encompasses teams and players from the United States and abroad.
About NPF:
National Pro Fastpitch is headquartered in Nashville, TN. The league, created to give elite female fastpitch players the opportunity to pursue a professional career in their chosen sport, has operated since 1997 under the names of Women's Pro Fastpitch (WPF) and Women's Pro Softball League (WPSL). NPF is the Official Development Partner of Major League Baseball in the category of women's fastpitch softball since 2002.
About USSSA:
The United States Specialty Sports Association (USSSA), headquartered in Osceola County, Florida, USSSA is the World's Largest Multi-sport Athletic Organization. Founded in 1968, USSSA has grown to over 3.7 million participants, competing in 13 nationally sanctioned sports including Baseball, Fastpitch, Slow Pitch, Karate, Basketball, Soccer and more! For more information on USSSA and to register your team visit USSSA.com. Also be sure to visit USSSAToday.com for the latest USSSA News!