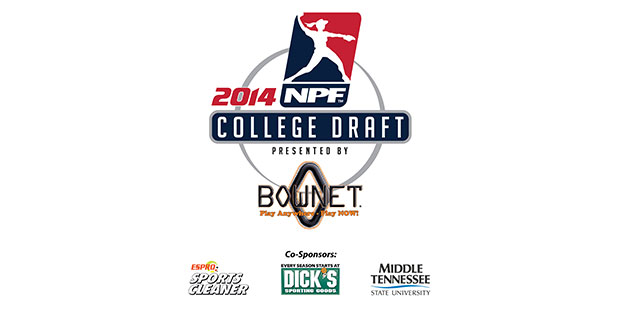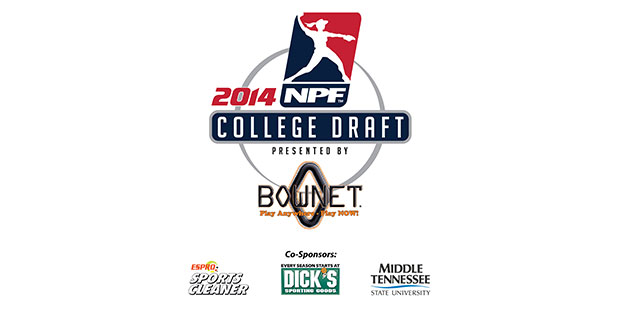 FOR IMMEDIATE RELEASE: Monday, March 31, 2014
NPF College Draft
USSSA Florida Pride
Kissimmee, FL-March 31, 2014- In a night when more than half of the draft picks went to pitchers in the National Pro Fastpitch College Draft, the reigning NPF Champions, the USSSA Florida Pride used their three picks to fulfill needs outside of the circle with their already talented roster. The Pride's first selection went to Tennessee Lady Vols SS Madison Shipman as the second overall pick. The Pride then chose two Oregon Ducks with the sixth and 11th overall picks, INF Courtney Ceo and Outfielder Alexa Peterson.
"We came to this draft with only three picks building towards next year's draft, where we get three first round picks. We came here with three girls in mind and we were lucky enough to land all three. With Shipman and Ceo we feel like we have the two most athletic players in the draft," said USSSA Pride General manager Don DeDonatis.
Madison Shipman is a senior at the University of Tennessee. This 6'1'' shortstop was a 2014 preseason All-SEC team selection and has been named to the Top 50 "watch List" for the 2014 USA Softball Player of the Year award. Shipman has 34 home runs, a .341 career batting average, and only 26 errors in her four seasons at Tennessee. She set a Lady Vol's single-game record with nine assists in a win against South Carolina on March 23 and has drilled four career grand slams, the most of any Lady Vol. As a junior she was a NFCA All-American first team selection and named to the SEC All-Defense Team. Shipman grew up in Valencia, California.
"I am really excited, Shipman's a complete five tool player, one of the bright young stars of the game. She's right handed and will create good match ups with left-handed pitchers in the league," said Pride Head Coach Gerry Glasco.
With the sixth overall pick the USSSA Pride selected Courtney Ceo. Ceo is a 5'8'' infield senior at the University of Oregon. She was named a member of the first team All-Pacific Region as a junior and is a two time second team All-Pacific Region selection in her sophomore and freshman seasons respectfully. This left handed hitter totes a .382 career batting average, 10 home runs, and .936 fielding percentage. Ceo has played multiple infield positions in college and is a consistent bat in the Ducks lineup.
"Ceo is a real hard nose competitor that finds a way to get it done. She has great tools and is coached by an outstanding coach in Mark White," said Glasco.
The Pride used their final pick to draft Ceo's teammate, Alexa Peterson as the 11th overall pick. This 5'8'' outfielder from Salem Oregon bring a big bat to the USSSA line up. Peterson has a .362 career batting average, 23 home runs, and 92 RBIs. In 2013 Peterson was named a NFCA first team All-American,
"Alexa Peterson is a complete player that can play in the outfield, infield, and has a great right hand stick," said Glasco.was named an All-World Series tournament team member in 2012, and was an All-Pac-10 Freshman team selection in 2011.
USSSA Florida Pride was well represented at the NPF Draft as General Manager Don DeDonatis, Assistant General Manager Gordon Glennie, Head Coach Gerry Glasco, Assistant Coach Jenn Gladding, Ace Pitcher Cat Osterman, and veteran Catcher Megan Willis were all on hand at the Ford Theater in Nashville, Tenn.
The Pride will start the 2014 NPF season on May 30th against the Pennsylvania Rebellion in Salisbury, MD.
About USSSA Florida Pride:
The USSSA Florida Pride is a professional franchise in the National Pro Fastpitch League that is owned and operated by USSSA. The amateur organization of USSSA has multi-sport coverage and encompasses teams and players from the United States and abroad.
About NPF:
National Pro Fastpitch is headquartered in Nashville, TN. The league, created to give elite female fastpitch players the opportunity to pursue a professional career in their chosen sport, has operated since 1997 under the names of Women's Pro Fastpitch (WPF) and Women's Pro Softball League (WPSL). NPF is the Official Development Partner of Major League Baseball in the category of women's fastpitch softball since 2002.
About USSSA:
The United States Specialty Sports Association (USSSA), headquartered in Osceola County, Florida, USSSA is the World's Largest Multi-sport Athletic Organization. Founded in 1968, USSSA has grown to over 3.7 million participants, competing in 13 nationally sanctioned sports including Baseball, Fastpitch, Slow Pitch, Karate, Basketball, Soccer and more! For more information on USSSA and to register your team visit USSSA.com. Also be sure to visit USSSAToday.com for the latest USSSA News!