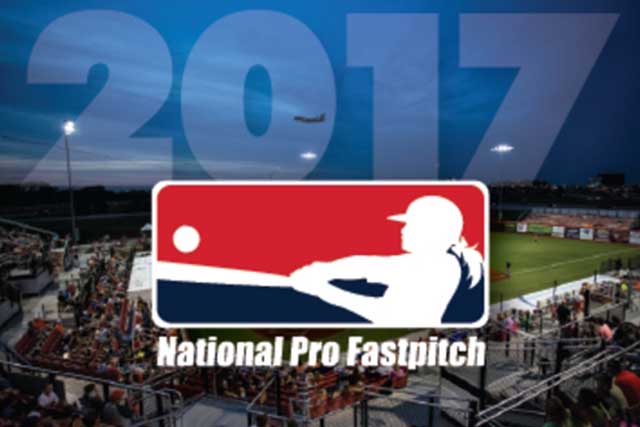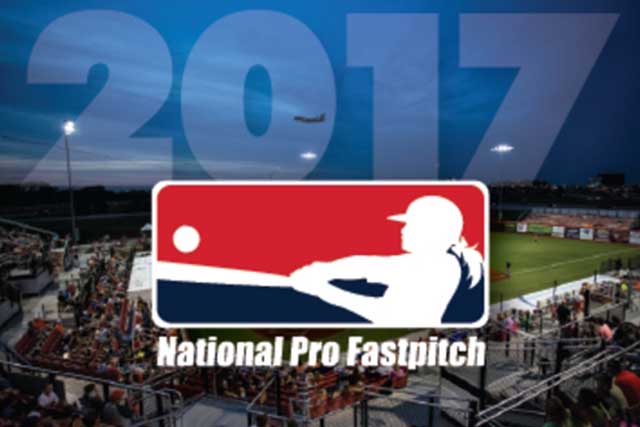 Nashville, TN -January 23, 2017 – National Pro Fastpitch held its annual Winter Meetings January 18-20 in Nashville. Representatives from all teams, including owners and General Managers, were on hand to discuss and plan for the upcoming 2017 season.
Each year, the Winter Meetings yield policy changes, rule approvals and adjustments, and the upcoming season schedule, among other things. Highlighting this year's results are an increase in the team salary cap and an increase in the maximum players allowed on a roster.
In addition, some ground breaking rule adjustments will be implemented into league play in 2017, specifically in the area of pitching. First off, pitching regulations will align much more with WBSC pitching rules, as opposed to the history of echoing NCAA outlines. Further, the penalty for an illegal pitch, will be reduced from "a ball on the batter and advancement of one base to all baserunners", to simply, "one ball on the batter and no baserunner advancement".
Growing emphasis will be placed on further regulation and monitoring of allowable bats for NPF competition. Bats supplied to NPF players will be limited to NPF partner suppliers who completely understand the bat performance parameters and who stand behind their manufacturing and distribution process in maintaining bats that conform to the legal allowances of the league.
"Our Winter Meetings are a time for us to come together and make the league better from season to season", commented league Commissioner, Cheri Kempf. "I am proud of our group of team owners and GM's in continuing to make changes that not only fit the elite level of competition housed in NPF, but lead the way in making the game better overall for players, fans and teams."
Also included on the Winter Meetings agenda is the upcoming season schedule, which was completed and released on Friday. The 2017 schedule includes 120 total regular season games, kicking off June 1 and completing August 13.
Although 2017 Draft and Championship Series dates were discussed, no official release has been made on either of those events to date.
Below is a summary outcome of NPF Winter Meetings 2017.
• Roster limits increase from 23 to 26. However, only 23 players can be active during any given game. Active players, in total 23, will be presented, on the official lineup card, to the home plate umpire at the beginning of every game. The Active Players list may change from game to game but is not allowed to be changed during the game for any reason.
• Team salary cap increases from $150,000 per team to $175,000 per team. Further, a re-defined policy stating the only paid amount that currently applies to the salary cap is the salary itself, eliminating signing bonus's, performance incentives, improved living conditions, et al.
• Established a Minimum Salary amount of $3,000 on all future Player contracts.
• Amendment to Franchise Player Tag Article, will allow "tagging" team to negotiate beyond the designated "Player Value", if so desired. Prior to this adjustment, there was no inter-team negotiation allowed.
• Amendment to Retirement Status to extend the rights of the team which player is contracted with at time of retirement, to "permanent".
• Clarity in wording (but not intent) of existing Retirement Status Article to state that any Player who assumes Retired Player Status, must spend a minimum of one full season out of competition.
• Player age requirement will be amended to state Player's age must be 21 "at time of competition", rather than former version of "by January 1 of competition year".
• Removed minimum travel expense reimbursement amount. Change wording to allow reimbursement for "reasonable pre-approved expenses paid out of pocket…" Previous expense limitation was $600.00 total.
• Ban of bats that are not supplied by an Official Supplier of NPF, regardless of whether or not logos and labels are visible. Bats allowed for NPF competition must come from an official supplier of the NPF and must be current in the product line. A comprehensive list of particular bats will be circulated to all players, teams, manufacturers and umpires.
• Approved modification of pitching rules to mimic WBSC rules, rather than NCAA.
• Approved new rule stating that an "illegal pitch" will result in a ball on the batter only, and will not advance the baserunner automatically.
• Autograph sessions will remain a hallmark of NPF, but individual teams will continue to place player safety as well as autograph efficiency, as priorities.
• Amendment to 8th inning NPF tie-breaker to include all double headers, improved from previous wording of "regularly scheduled" double headers.
About USSSA Florida Pride: The USSSA Florida Pride is a professional franchise in the National Pro Fastpitch League that is owned and operated by USSSA. The amateur organization of USSSA has multi-sport coverage and encompasses teams and players from the United States and abroad.
About USSSA: USSSA is headquartered in Osceola County, Florida. USSSA is the World's Largest Multi-sport Athletic Organization. Founded in 1968, USSSA has grown to over 3.7 million participants, competing in 13 nationally sanctioned sports including Baseball, Fastpitch, Slow Pitch, Karate, Basketball, Soccer and more! For more information on USSSA and to register your team visit USSSA.com. Also be sure to visit USSSAToday.com for the latest USSSA.
About National Pro Fastpitch: National Pro Fastpitch (NPF), an Official Development Partner of Major League Baseball since 2002, provides elite female athletes with an opportunity to pursue a professional career in diamond sports beyond their collegiate success. The 2016 NPF season was televised on CBS Sports Network. Coverage included the NPF College Draft presented by Bownet in April, followed by 23 regular-season games, a Championship Series Preview Special and the 2016 NPF Championship Series.