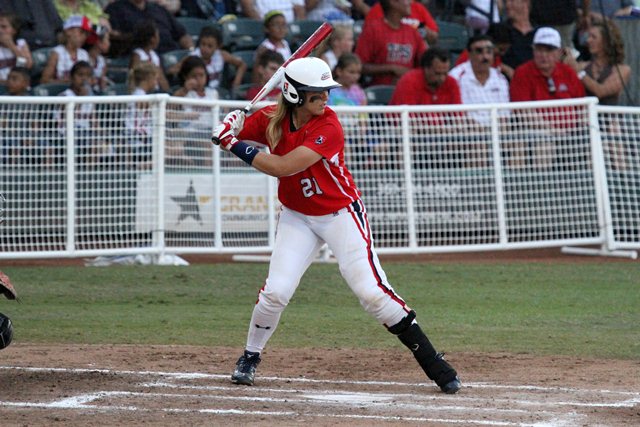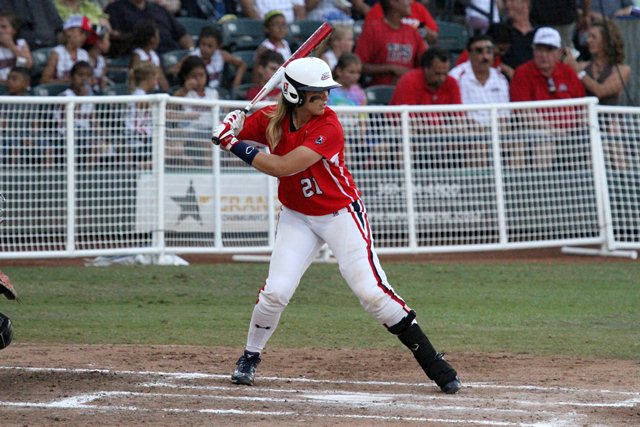 AKRON, OH – August 16, 2012 – Kristyn Sandberg of USSSA Florida Pride (28-12) had the play of the game when she blasted a three-run home run giving the Pride a 6-0 lead.
The Pride would add two more runs, defeating the Racers by a score of 8-0 after putting 13 hits on the board.
The Pride started off the second inning with two singles by Ashley Charters and Megan Willis. Andrea Duran followed up by hitting a double, allowing for Charters to score a run.
In the top of the third, Caitlin Lowe hit a single and stole second with Jessica Mendoza at-bat. Lowe then took third and on Mendoza's base hit she scored a run for the Pride.
Pride catcher Willis led off the fourth inning by hitting a solo home run off of Hillary Bach's (5-8) curve ball. The Racers stepped up their defense getting Duran out on a fly ball and Lauren Lappin out on a line drive to third baseman Kelley Montalvo.
The Akron Racers (14-27) didn't make their mark until the fourth inning when Lisa Modglin hit a single. Taylor Schlopy then got a base off of an error and Brianna Hesson hit a single to center field leaving the bases loaded.
Nicole Pauly, next at-bat, struck out and Kaylyn Castillo finished the inning with a beautiful hit to center field that Caitlin Lowe caught with a diving catch, ending the Racers threat.
In the fifth inning, Sandberg scored herself as well as Lowe and Mendoza on her three-run home run.
Following the runs, the Racers changed pitchers and put Jen Mineau (0-1) in the pitching circle. Willis managed a single off an error, leaving two runners on base. Duran scored Charters, while getting out at first base on a fielder's choice.
In the top of the sixth the Pride made their final mark when Jessica Mendoza hit a solo home run on the second pitch leaving the score at 8-0.
Cat Osterman (9-4) pitched five innings for the Pride allowing three hits on no runs with seven strikeouts lowering her ERA from 0.76 to 0.72.
Bach pitched 4.1 innings for the Racers allowing seven runs on 10 hits with two strikeouts.
Mineau pitched the remaining 2.2 innings allowing one run on three hits with two strikeouts lowering her ERA from 4.73 to 4.52.
About USSSA Florida Pride:
The USSSA Florida Pride is a professional franchise in the National Pro Fastpitch League that is owned and operated by USSSA. The amateur organization of USSSA has multi-sport coverage and encompasses teams and players from the United States and abroad.
About NPF:
National Pro Fastpitch is headquartered in Nashville, TN. The league, created to give elite female fastpitch players the opportunity to pursue a professional career in their chosen sport, has operated since 1997 under the names of Women's Pro Fastpitch (WPF) and Women's Pro Softball League (WPSL). NPF is the Official Development Partner of Major League Baseball in the category of women's fastpitch softball since 2002.
About USSSA:
The United States Specialty Sports Association (USSSA), headquartered in Osceola County, Florida, USSSA is the World's Largest Multi-sport Athletic Organization. Founded in 1968, USSSA has grown to over 3.7 million participants, competing in 13 nationally sanctioned sports including Baseball, Fastpitch, Slow Pitch, Karate, Basketball, Soccer and more! For more information on USSSA and to register your team visit USSSA.com. Also be sure to visit USSSAToday.com for the latest USSSA News!