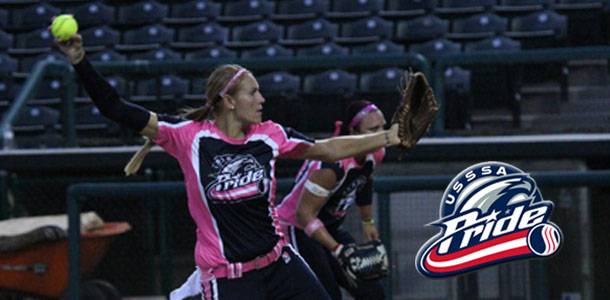 The USSSA Pride pulled off an exciting 2-1 victory over the Chicago Bandits in the bottom of the seventh Friday night at the ESPN Wide World of Sports in Lake Buena Vista.
The Pride (18-11) entered the bottom of the seventh inning with the game tied 1-1, after having not scored since the first inning. Catcher Lauren Lappin singled to start the inning off and was followed up by shortstop Natasha Watley, who reached first on a fielding error by the Bandits (16-14).
Outfielder Caitlin Lowe then singled to load the bases with no outs. Outfielder Jessica Mendoza stepped up to the plate and hit the game-winning RBI, bringing in Lauren Lappin on a sacrifice fly hit deep into left field.
The only other score from the Pride came in the first inning, when Kelly Kretschman hit a single with two outs to bring in Natasha Watley for a run.
Bandits pitcher Monica Abbott (9-2) shined in the loss allowing only eight hits and two runs and striking out eight batters.
Pride pitcher Sarah Pauly (5-2) performed well, despite being called for multiple illegal pitches in the game, one of which cost the Pride a run in the third inning. Pauly pushed though her troubles, though, and finished out the game with four strikeouts.
The Pride now lead the NPF by 2.5 games and will face the Bandits in game three of the series tomorrow at 8 p.m. at the ESPN Wide World of Sports. Visit dev.usssapride.com for the live stream from the game.
About USSSA Florida Pride:
The USSSA Florida Pride is a professional franchise in the National Pro Fastpitch League that is owned and operated by USSSA. The amateur organization of USSSA has multi-sport coverage and encompasses teams and players from the United States and abroad.
About NPF:
National Pro Fastpitch is headquartered in Nashville, TN. The league, created to give elite female fastpitch players the opportunity to pursue a professional career in their chosen sport, has operated since 1997 under the names of Women's Pro Fastpitch (WPF) and Women's Pro Softball League (WPSL). NPF is the Official Development Partner of Major League Baseball in the category of women's fastpitch softball since 2002.
About USSSA:
The United States Specialty Sports Association (USSSA), headquartered in Osceola County, Florida, USSSA is the World's Largest Multi-sport Athletic Organization. Founded in 1968, USSSA has grown to over 3.7 million participants, competing in 13 nationally sanctioned sports including Baseball, Fastpitch, Slow Pitch, Karate, Basketball, Soccer and more! For more information on USSSA and to register your team visit USSSA.com. Also be sure to visit USSSAToday.com for the latest USSSA News!