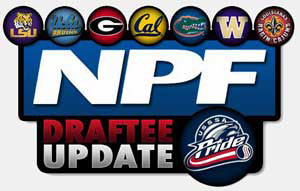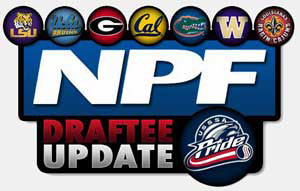 Via uclabruins.com
Vs. Stanford, April 10 and 11
Game 1, 4/10: Stanford 11, UCLA 9
Game 2, 4/10: Stanford 4, UCLA 12
Game 3, 4/11: Stanford 2, UCLA 5
Harrison, 4/10-11: (AB-10;R-3;H-2;RBI-3;BB-2;SO-2;PO-3;A-0;LOB-2)
Game 1:
"LaRosa led off the seventh with a single for her fourth hit of the game, but White induced senior Andrea Harrison into a double play grounder and retired junior B.B. Bates on a grounder to end the game."
Game 2:
"Camuso and Harrison both had two hits, three RBI and a homer, as the Bruins won game two by a score of 12-4 in five innings.
"…UCLA (26-11, 3-5) added two more in the third. Schroeder led off with a single up the middle, stole second, and one out later, moved to third on a single to right by Harrison. A Bates walk loaded the bases and Camuso followed with a single to left-center to plate Schroeder and Harrison to make it 5-1.
"…Duran would be forced at third on a grounder off the bat of LaRosa, but Harrison followed with a three-run bomb to center to make it 8-4."
Game 3:
"UCLA struck first with two runs in its first at-bat. With two outs, senior Andrea Harrison walked and Bates belted her 11th home run of the season to center to make it 2-0."
Vs. Washington, April 13,14,and 15 
Game 1, 4/13: UCLA 7, Washington 5
Game 2, 4/14: UCLA 5, Washington 0
Game 3, 4/15: UCLA 2, Washington 5
Harrison, 4/13-15: (AB-9;R-2;H-2;RBI-0;BB-1;SO-6;PO-3;A-0;LOB-2)
Game 1:
"A single up the middle by freshman Stephany LaRosa brought home Schroeder to make it 5-4 and a double to left-center by senior Andrea Harrison put two in scoring position. Bates followed with a flare double to left, as LaRosa and Harrison scored to give the Bruins a 6-5 lead."
Game 2:
"UCLA added another run in the fifth. With one out, a LaRosa single and a hit by pitch of senior Andrea Harrison put a pair on base. Harrison would be retired at second on a fielder's choice grounder off the bat of junior B.B. Bates to second for the second out of the inning, but Camuso followed with a single to left to bring home LaRosa to make it 3-0."
Game 3:
"UCLA recorded just four hits, with seniors Andrea Harrison and Katie Schroeder and freshman Stephany LaRosa posting the other singles.
"…Schroeder led off with a walk, LaRosa singled to left and both runners moved up on a wild pitch. Harrison then had an excuse-me swing that dribbled to first and she was able to beat out the grounder to load the bases. But Inglesby momentarily killed the rally when she induced junior B.B. Bates into a comebacker double play, as Schroeder was retired at home. Yudin followed with a flare single to right-center, plating LaRosa and Harrison to cut the deficit to 5-2. However, Yudin was thrown out to end the inning trying to advance to second. UCLA would be retired in order in the seventh."
About USSSA Florida Pride:
The USSSA Florida Pride is a professional franchise in the National Pro Fastpitch League that is owned and operated by USSSA. The amateur organization of USSSA has multi-sport coverage and encompasses teams and players from the United States and abroad.
About NPF:
National Pro Fastpitch is headquartered in Nashville, TN. The league, created to give elite female fastpitch players the opportunity to pursue a professional career in their chosen sport, has operated since 1997 under the names of Women's Pro Fastpitch (WPF) and Women's Pro Softball League (WPSL). NPF is the Official Development Partner of Major League Baseball in the category of women's fastpitch softball since 2002.
About USSSA:
The United States Specialty Sports Association (USSSA), headquartered in Osceola County, Florida, USSSA is the World's Largest Multi-sport Athletic Organization. Founded in 1968, USSSA has grown to over 3.7 million participants, competing in 13 nationally sanctioned sports including Baseball, Fastpitch, Slow Pitch, Karate, Basketball, Soccer and more! For more information on USSSA and to register your team visit USSSA.com. Also be sure to visit USSSAToday.com for the latest USSSA News!