Matt Meuchel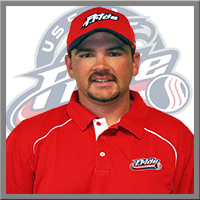 Matt Meuchel is in his second year as the Pride assistant coach for the 2012 season. On July 14, 2008, Matt Meuchel became the fourth head coach in the history of the University of Nevada softball program and the second since the program was reinstated in 2003. With that hire, the Wolf Pack gained a young, energetic coach with a penchant for hard work, solid recruiting and building a family-style program.
In his first season, Meuchel took a program that he had helped shape and he put his own stamp on it in 2009. The Wolf Pack set a number of hitting and pitching records as Meuchel delivered the program's second-straight Western Athletic Conference championship as Nevada tied for the crown with Fresno State. Nevada also advanced to the NCAA Regional in Palo Alto, Calif., where Meuchel captured his first-ever and the program's third NCAA victory with a win over Cal Poly in the first round of the Regional.
Meuchel's collegiate coaching career began at Arizona State, where he was the Sun Devils' summer camp director and where he served as the team manager for three seasons. He graduated with a bachelor's degree in psychology from Arizona State in 2000 and worked the 2001 season as a volunteer assistant coach for then-head coach Linda Wells. His responsibilities in Tempe included coaching the outfielders and coordinating video analysis.
In the summer of 2004, Meuchel got a taste of Olympic-level softball as he worked with the Greek Olympic Softball Team. He was part of the team's coaching staff for its United States and European Tours and also during the 2004 Summer Games in Athens. He served as a first-base coach among his many duties, which also included scouting the team's Olympic foes.
During his two years in Stillwater, Meuchel recruited or coached five All-Big 12 Conference selections, two NFCA first-team All-Midwest Region honorees, and one NFCA third-team All-American. The Cowgirls also had eight All-Big 12 Academic Team selections who were coached or recruited by Meuchel.Meuchel was married in the summer of 2009 to the former Joey Hall, a former Nevada softball assistant coach.