Jenn Gladding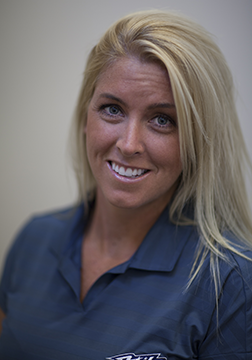 There is more exciting news from the USSSA Pride with the addition of Jennifer Gladding to the staff as an Assistant Coach for the 2014 season. Head Coach of the USSSA Pride, Gerry Glasco had this to say:
"We are thrilled to have Jenny Gladding on our coaching staff. She brings elite level experience both as a former player and Coach. A winner in every respect!"
Gladding is a native of Palm City, FL and is a graduate of the University of Florida and earned a BA in Criminology. Her focus during her years at college weren't just in academic pursuits but also on the field in the pitching circle for the Gators softball team. After graduating her connection to the game continued beyond her playing days where she was the Director of Softball at Champion Sports Complex in Orlando, Head Softball Coach at Palm Beach Atlantic University before taking up the role of Assistant Coach at the University of Florida, where she then spent six seasons specializing in working with infielders.
Under Gladding's tutelage, the 2012 Gator softball squad paced the Southeastern Conference in fielding percentage (.974), while registering the second-fewest errors (44) in Florida softball history. The Gators ranked 17th in the nation in fielding percentage, just four spots below 2011's 13th NCAA ranking. A total of seven Florida student-athletes have picked up 13 SEC All-Defensive Team accolades under Gladding's watch the past five seasons since the award started in 2008.
As a player, Gladding didn't start her collegiate career at Florida, she transferred to UF for the 2003 season after playing her first two years at Arizona where she was a member of two College World Series teams, and helped the Wildcats win the national title in 2001. In her first two years at Florida, she rewrote the Florida pitching record book, setting career records for opponent batting average, strikeouts per game and strikeouts looking. She finished her career just 35 strikeouts short of the school record. Gladding also set several single-season records, including earned run average, opponent batting average, strikeouts per game, win percentage, strikeouts and strikeouts looking. In addition to her stellar performance in the pitching circle, Gladding had a powerful bat and led the Gators with a .318 average in 2003. She set the school record with a 13-game hit streak from April 18 to May 3, 2003. Gladding earned All-Southeastern Conference Honors in 2003 and 2004 and All-Pac 10 honors in 2002. She earned NFCA All-Region honors both her sophomore season at Arizona and her junior season at Florida. She was also the last Gator and one of only three to pitch a perfect game, as she did so against Missouri on Feb. 7, 2004.
Now as a coach for the Pride, she is excited to get out there and work at the Pro level of fastpitch softball. Gladding had this to say:
"I can't wait to work with a great team of players and staff and hope that working together we can bring home the Championship this season just like the team did in 2013″