Gerry Glasco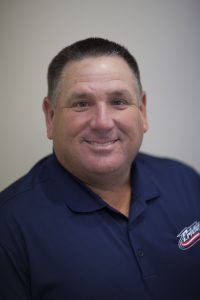 USSSA Florida Pride, 2013 National Pro FastpitchChampions, named Gerry Glasco as its Head Coach for the upcoming 2014 season. Glasco was recently named the new Associate Head Coach at Texas A&M after serving as the  the Associate Head Coach and Recruiting Coordinator for the University of Georgia. Glasco brings a wealth of experience on the offensive side of the ball with him to the Pride after helping UGA set over 20 offensive team records since the 2008-09 season. Glasco will begin his stint with the Pride after the conclusion of Georgia's 2014 campaign.
"In Gerry Glasco we have found an exemplary individual and outstanding coach to lead the USSSA Pride in defense of its 2013 Championship title" said Pride General Manager Don DeDonatis. "We believe that Gerry understands the core mission of this organization and is the perfect individual to help us accomplish our goals well into the future."
"Gerry played a key role in the offensive development 2011 NPF Rookie of the Year, Alisa Goler, 2013 NPF Player of the Year Megan Wiggins and of course, 2012 NPF Rookie of the Year Kristyn Sandberg," continued DeDonatis. "He's a welcome addition to our team."
The addition of Glasco to the Pride staff is unique in that his involvement with the sport of fastpitch hasn't been confined to the college level. Glasco is a champion at the youth fastpitch level, coaching the Southern Force Gold to the 2004 18U National Championship. He also has experience with the USSSA USA Elite Select program, the standard in youth fastpitch.
Glasco is a 1980 graduate of the University of Illinois, majoring in Agricultural Economics. He and his wife Vickie have three children: Tara Glasco Archibald, who is an assistant coach at Georgia, former USSSA Pride catcher Erin Glasco and Geri Ann Glasco, a sophomore with the Bulldogs. All three Glasco girls have played Division I softball and have participated in the NCAA Softball Tournament.